1776 Manuscript Deed For Three Slaves - Frederick County - Maryland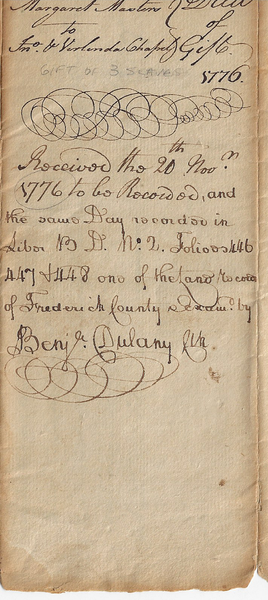 Manuscript deed for three slaves, Frederick County, Maryland, 16 November 1776. Folio sheet of 1 pgs. Some separation at folds and several chips at the edges, generally not affecting text (minor affect to two words) minor foxing but overall very legible and in vg cond. The deed is a transfer of three slaves which belong to Margaret Masters to her son-in-law and daughter, John Chappell and his wife Verlinda. Margaret Master was giving the "three Negroes", Rachel, Bess and Doll as a gift. Her other property also appears to be transferred to John Chappell and her daughter, his wife, under the condition that they provide for her during her "natural life" and that she continue to have use of some of the property during her lifetime. The document is signed by Robert Peters and carries the mark of Margaret Masters.
The document reads:
To all People to whom These Presents shall come I Margaret Masters of Frederick County in the Province of Maryland send greetings. Know you That I the said Margaret Masters for and in consideration of the natural Love and Affection which I have and bear unto my Son in law John Chappell & my beloved Daughter Verlinda his wife and for ___ their good causes and consideration me hereunto moving as also for and in consideration of the sum of five Shillings currant money to me in hand paid by the aforesaid John & Verlinda Chappell the receipt whence I do hereby acknowledge have given and granted and by These present do give and grant unto the said John & Virlinda Chappell the three following Negros that is to say Rachel Bess and Doll with their Increafe as also all my Cattle Horses mares Sheep and Hogs Household furniture Plantation Utensils Crops of every kind ready money and all and singular my personal Estate whatsoever or whomsoever in whose hands Custody or profsfsion serve they be To have and to hold all and singular the said Negroes Cattle horses Mares Sheep and hogs with Their enough Household furniture Plantation Utensils Crops ready money and personal Estate aforesaid unto the said John & Verlinda Chappell Their Executor Administrators or _Afsigns to the only proper use and behoof of them the said John & Verlinda Chappell Their Executors Administrators or Afsigns for every And the said Margaret Masters the said Negroes Cattle horses Mares Sheep and hogs with their enough household furniture Plantation Utensils Crops ready money and personal estate aforesaid to the said John & Verlinda Chappell their Executors Administrators and Afsigns against all Persons whatsoever shall and will for ever defend by these presents Of which Effects I the said Margaret Masters have put the said John & Verlinda Chappell in full pofsefsion by delivering them one English Guinia in name of the whole at the Sealing and delivery of thefe presents. Provided neverthelefs and it is the true meaning of the parties also John & Virlenda Chappell shall furnish and provide for the said Marg'e Masters a good decent and sufficient maintenance during her natural life or that she may retain the use of the aforsiad Negroe & personal Estate during her natural life at her option in Witness whereof the said Margaret Masters hath hereunto set her hand and Seal this Sixteenth day of November in the Year of our Lord One Thousand seven hundred & Seventy six.
NB the word "personal", between the thirteenth and fourteenth lines was Intentional, before the Signing and Sealing of these Presents.
Signed Sealed & Delivered in the Presence of us –
Benj'm ____
Robert Peters
Margaret Masters mark
(second page)
Maryland. Frederick County 16th Novemb. 1776
This day Personally appeared before me one of the Justices for the County aforesaid the within named Margaret Master and acknowledge the within instrument of writing to be her act and Deed and the negroes Rachel Befs and Doll with their increase as also the Horses, Sheep, Cattle, Sheep and Hogs Household Furniture Plantation utensils Crop of every kind ready money all and Singular my Personal Estate whatsoever or wheresoever in whom have Custody or Pofsefsion soever the be to be the Rights and Estate of the Within named John & Virlinda Chapple their Heirs and afsigns according to the true intent and and meaning thereof and an Act of afsembly in such cases made & provided.
Acknowledged before me ---- Robert Peters.
(outside panel)
Deed of Gift – 1776
Margaret Masters to Jh & Verlinda Chappell.
Received the 20th of Nov.m 1776 to be Recorded, and the same Day recorded in ___ B.D. No.2 Folio 446 – 447 and 448 & one of the land Records of Frederick County by Benj. Dulany Ck.