Allanstand Cottage Industries - The Nations Oldest Craft Shop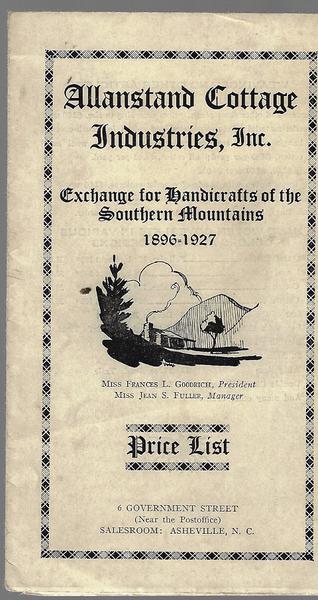 ALLANSTAND COTTAGE INDUSTRIES - THE NATIONS OLDEST CRAFT SHOP
(North Carolina) Allanstand Cottage Industries, Inc. Exchange for handicrafts of the Southern Mountains. 1896-1927. Price List. Miss Frances L. Goodrich, President and Miss Jean S. Fuller, Manager. Salesroom - Asheville, N.C. Single sheet with three double folds. Photos, prices, descriptions. Frances Goodrich founded this group in 1896 to revive Southern crafts and help the people of Appalachia.
The Guild's history of sales shops is quite interesting. Frances Goodrich's gift of Allanstand Cottage Industries (the nation's oldest craft shop) launched the merchandising program of the Guild in 1931. In an interview that appeared in the Christian Science Monitor she stated the organization was an extension of the work to which she had dedicated her life. Her gift meant that all Guild members had access to an established shop and it was a focal point where high standards were on display. The shop began in 1897 (the production of weavings began in 1895) at Allan's Old Stand, named after a stop on the old drover's road (really more of a trail by today's standards) in Madison County, NC. In 1908, Ms.Goodrich opened a shop called Allanstand in downtown Asheville.
As the membership of the organization grew, the need for more outlets increased and other shops were opened in various places in the US. Over the years, the Guild has operated shops in Norris, Knoxville, Sevierville (Silver Dollar City) and Gatlinburg, Tennessee; Big Meadows, Skyland, Abingdon and Bristol, Virginia; In Cumberland and Louisville, Kentucky, Washington, D.C., as well as a seasonal shop in Greenville, SC. Undoubtedly the boldest retail venture the organization has put forth was the store the Guild opened in 1935 in Rockefeller Center, New York City. The shop was open for two years and although sales were brisk during holiday season, rent was high and the long distance from headquarters problematic. The store was unique in that it introduced thousands of people to the high quality crafts being produced in the southern Appalachians as well as to the Guild and its mission. According to information in the Guild archives, there was a steady stream of New York visitors to the Asheville store in the summer months for years after the NY store closed, who fondly remembered the shop at Rockefeller Center and wanted to see the place where such beautiful handmade objects were created. (Southern Highland Craft Guild)
Expected minor fold wear, overall in vg cond.