Amana Society Meat Department - Homestead, Iowa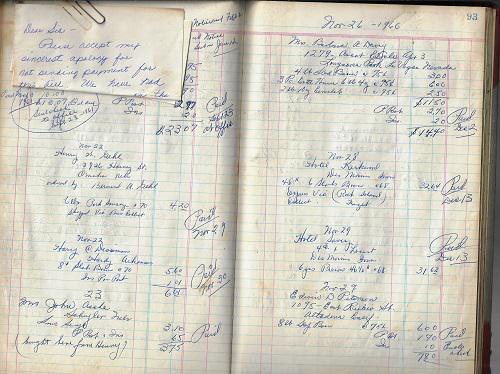 Eleven ledger volumes from the Amana Society Meat Department containing a total of 1635 filled pages of both wholesale and retail sales, details of the orders, the cost of the purchases and the client addresses. There are also a limited amount of receipts and letters of inquiry concerning the Amana Society Meat Department. The eleven volumes cover the following time period: CURING AND SMOKING LEDGERS 1. February 2, 1954 - June 28, 1954 2. February 3, 1955 - December 28, 1955 3. March 14, 1961 - June 11, 1962 4. June 18, 1962 to October 18, 1963 5. October 22, 1963 - March 30, 1965 MAIL ORDER LEDGERS 6. April 29, 1958 - December 18, 1959 7. March 25, 1959 - February 17, 1960 8. December 18, 1959 - April 3, 1961 9. April 4, 1961 - May 24, 1962 10. June 2, 1961 - August 7, 1963 The 11th ledger, a mail order ledger, is dated October 26-September 26, without the year, but of the same time period. The ledgers show the incredible breath of the Amana Society Meat Department sales as they had clients in the states of Tennessee, Montana, Louisiana, Nebraska, Michigan, Massachusetts, New Jersey, South Dakota, Idaho, Washington state, Colorado, Minnesota, Missouri, Arizona, Arkansas, Oklahoma, California, Texas, Illinois, Ohio, Iowa and Kansas.
The tradition of the Amana Meat Shop & Smokehouse began during communal times, when families enjoyed meals together in roomy kitchen houses. Each village had a meat shop and smokehouse where ham, bacon, and sausage were cured the old-world way...with long-held recipes and a commitment to quality.
An important Amana business archive, very readable and in vg cond.
The history of Amana Colonies, a National Historic Landmark and one of America's longest-lived communal societies, begins in 1714 in the villages of Germany and continues today on the Iowa prairie.. In the turbulent 18th century, Germany in the midst of a religious movement called Pietism, two men, Eberhard Ludwig Gruber, and Johann Friedrich Rock, advocated faith renewal through reflection, prayer and Bible study. Their belief, one shared by many other Pietists, was that God, through the Holy Spirit, may inspire individuals to speak. This gift of inspiration was the basis for a religious group that began meeting in 1714 and became known as the Community of True Inspiration. Though the Inspirationists sought to avoid conflict, they were persecuted for their beliefs and eventually found refuge in central Germany settling in several estates, including the 13th-century Ronneburg castle.
After initially settling in Ebeneezer, New York they found that more land was needed for their community. In 1855 they arrived in Iowa. After an inspired testimony directed the people to call their village, "Bleibtreu" or "remain faithful" the leaders chose the name Amana from the Song of Solomon 4:8. Amana means to "remain true." Six villages were established, a mile or two apart, across a river valley tract of some 26,000 acres – Amana, East Amana, West Amana, South Amana, High Amana, and Middle Amana. The village of Homestead was added in 1861, giving the Colony access to the railroad.
In March 1931, in the wake of the Great Depression, the Great Council disclosed to the Amana Society that the villages were in dire financial condition. The Depression was particularly harsh in the Colony because a fire had badly damaged the woolen mill and destroyed the flour mill less than ten years earlier. At the same time, Society members were seeking increased secularism so that they could have more personal freedom. The Society agreed to split into two organizations. The non-profit Amana Church Society oversaw the spiritual needs of the community, while the for-profit Amana Society was incorporated as a joint-stock company. The transition was completed in 1932 and came to be known in the community as the Great Change. They established the Amana Society, Inc. a profit-sharing corporation to manage the farmland, the mills, and the larger enterprises. Private enterprise was encouraged. The Amana Church was maintained. (Source: Wikipedia)