Boston Battle Plan In 1775 In The Magazine Edited by Thomas Paine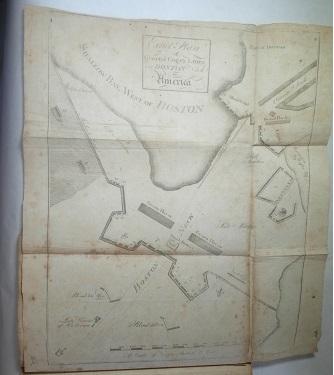 Pennsylvania Magazine. EXACT PLAN OF GENERAL GAGE'S LINES ON BOSTON NECK IN AMERICA (in) the Pennsylvania Magazine for August, 1775. Printed and published by R. Aitken. The Magazine is disbound with age-toning and light foxing throughout. The map remains folded as issued. At some point, a separation of about 6" along one fold was repaired on the reverse of the map. There is also some minor foxing to the map. In spite of these issues, it is a better than average example of a map which is commonly found in rough condition.
This is the second battle plan of the Revolutionary War printed in American, preceded only by a more general map of Boston in the July 1775 issue of the Pennsylvania Magazine. The map provides exacting detail of the various fortifications (guard houses, stockades, bomb battery) on the neck that connected the city of Boston to the mainland. Thirty numbered items on the Plan are keyed to a table in the Magazine proper; most of the keyed items represent cannon placements. From the plan, the editor notes, "it will be easy to form a perfect idea of the manner in which the General hath blockaded the entrances in (Boston)." The Plan remains bound in the August, 1775 issue of the Magazine in which it appeared.
The Magazine itself (which is disbound from an annual volume) contains very important content related to the beginning of the American Revolution, including a British report of their losses at Lexington and Concord, and letters from the Continental Congress to the inhabitants of Great Britain and Ireland rejecting the British "plan of accommodation (as it has been absurdly called)." Thomas Paine was editor of the Magazine at this time. Wheat & Brun, Maps and Charts Published in America before 1800:237. Nebenzahl, A Bibliography of Printed Battle Plans of the American Revolution 1775-1795:5. Sellers and Van Ee, Maps and Charts of North America and the West Indies, 1750-1789:895. Jolly, Maps of America in Periodicals Before 1800:268.