Canadian Photo Album - Maligne Lake - 1946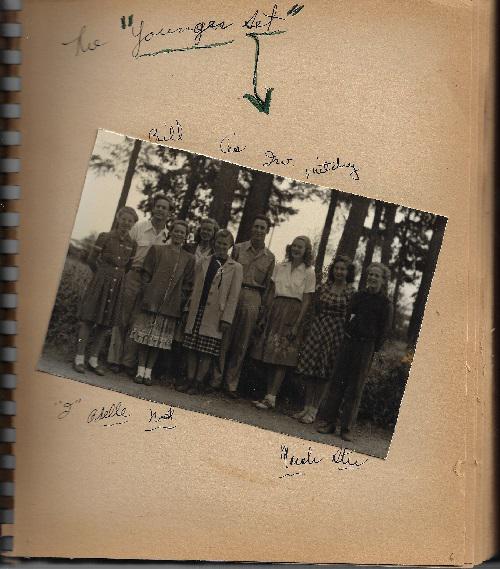 (Canada - Manuscript Photo Album and Scrapbook - Maligne Lake 1946) Boge, Elizabeth. March 1946. 38 leaves (i.e. 74 pgs.), on thick beige paper stock. With 42 mounted silver gelatin photographs, from 3.25 x 4.25 inches up to 4.75 x 6.5 inches, nearly all with explanatory text in red, green and black ink, 15 leaves of mimeographed text printed on blue-tinted paper, all cut and mounted on leaves, 13 pieces of ephemera including travel brochures, menus, clippings. Tweed cloth 21 ring plastic comb Amfile binder. Expected wear but overall in vg cond.
This charming photo album diary records the post - WWII travel adventures by "Dodge" and Red Pick-up" from Los Gatos, CA to Maligne Lake in Jasper national park, Alberta, Canada of six teenage schoolgirls, three young men and their chaperones, all enhanced by 42 photographs. Fourteen year old Elizabeth details how they set off in two groups along the Redwood highway, camping in sleeping bags, and stopping to visit the Oregon Caves. She describes traveling in the back of the red pick-up and stops in Portland, Centralia, Olympia and then onto Seattle where they stay at the Frye Hotel where she suffers from food poisoning. Her memoir and photos detail their travel up to Victoria on the princess Alice, admiring the Empress Hotel, but "didn't succeed in crashing because improperly dressed for formal luncheon." Then it was on to Jasper Park Lodge, a tour of the park in a 1932 Packard and finally coming to Maligne Lake on August 20th. By August 27, they have started the return trip, with stops on the Columbia River Highway to Multnomah Falls, Bonneville Dame and makes a note of a "whole group of Orientals fishing for salmon with huge nets off a roaring fall of water near the salmon traps." Elizabeth (b. 1932) graduated from the private Children's Country School in Los Gatos to Los Gatos High School, and she studied business administration at San Jose State College while working at Yosemite National Park during the summers. Ann Boge (1890-1982), Nathalie Wollin Yabroff, and Elizabeth Glassfond continued to run the private school after the death of Mary Orem in 1948, and the other girls went onto Vassar, UC Santa Barbara and other schools in and out of California.