Capture of Jeff. Davis Broadside - c. 1865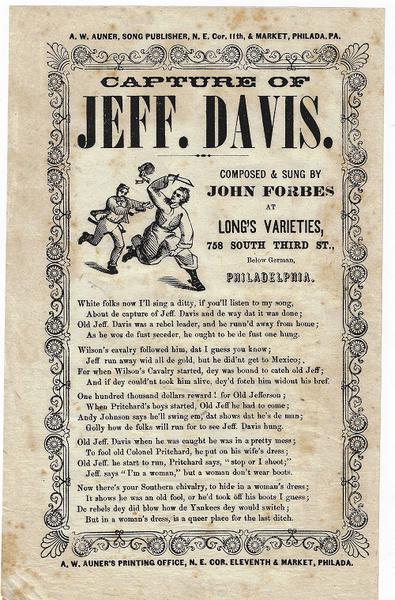 CAPTURE OF JEFF. DAVIS. COMPOSED & SUNG BY JOHN FORBES AT LONG'S VARIETIES, 758 SOUTH THIRD ST., Below German, PHILADELPHIA. Published by A.W. Auner's Printing Office, Philadelphia. Illustration of a soldier chasing Davis wearing a women's dress. Variant A (23.2 x 14.9 cm). 5 verses:
"White folks now I'll sing a ditty, if you'll listen to my song, About de capture of Jeff. Davis and de way dat it was done; Old Jeff. Davis was a rebel leader, and he runn'd away from home; As he wos de fust seceder, he ought to be de fust one hung."
Minor toning, overall in vg cond.