Civil War - William Dean - 44th Massachusetts Infantry - Lincoln Assassination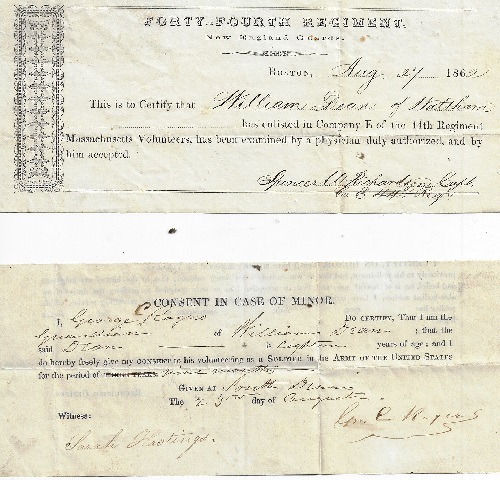 WILLIAM DEAN – 44TH MASSACHUSETTS INFANTRY ARCHIVE WITH DETAILS OF THE LINCOLN ASSASSINATION
William Dean enlisted on August 29, 1862 as a private in the 44th Massachusetts Infantry, Co. E. The 44th was the second New England Guards Regiment, raised to fill the quota of Massachusetts under the call of August 4, 1862, for nine months' troops. On November 1st, the regiment marched into the interior of Rawle's Mill, North Carolina, where it encountered the enemy and lost two men with six wounded. The regiment encountered several skirmishes, including at Whitehall on December 16th when 8 were killed and ten wounded.
This archive contains five items pertain to William Dean including the the CERTIFICATE OF DISABILITY FOR DISCHARGE (2 copies), a certificate that William Dean has enlisted in Company E of the Forty-Fourth Regiment; the CONSENT IN CASE OF MINOR form and a detailed letter from his mother, Sarah Hastings.
The letter in full as written as written:
Walthan June 4, 1865
My Dear Son Willie,
I received a letter from you one week since, for which I felt very grateful. I had become to feel very much worried about you, but it seems you are stirring yet. I feel it is to bad that you do not get our letter & worse that you do not get any papers. Such times as these were never known in History & one should read & hear what transpires from day to day & feel the excitement that prevails in every place & every heart. You will hear & read it sometime, but to have it fresh as it transpires is so much better, that I feel that you have lost great deal that you would always remember more distinctly if you had been at home & felt it all as it came along. The fall of Richmond, the surrendering of the armies, the murder of the President, the finding & killing the assassin, the capture of the conspirators, the pursuit of Jeff Davis, & his capture in the disguise of an old woman, his irons his imprisonment his behavior, the dwindling down of the Confederacy running away in a hoop skirt, & every think belonging to it has been enough to keep the people in a ferment all the time for more than two months. Last Thursday was the Nations fast for the death of the President. Many places still wear the emblems of mourning for our beloved leader. He has gone to his rest & a halo of glory will forever encircle his name. The people seem confident of Johnson competency & capacity to take his place & feel he is better qualified to deal with the traitors & punish them than Abraham Lincoln he was so merciful & kind. I think you must have a dull time staying so long in each place that you go to & nothing to do I am afraid it will beget idle habits which I used to think you did not possess, and hope you never will. My dear boy I hope you will always endeavor to maintain a good character, I think of you a great & and hope & pray that you are likely & good I feel afraid you will get into loose & rowdy habits & dont swear & drink & gamble, remember your dead father & your living mother what the one would have you be, if he were living, what the other expects of you as her only son. Willie you certainly ought to be a good boy & wherever you are if I could only know this, I could feel safe about you. I have always had great expectations in you. You write me how you look, I should think you would hardly be recognized as the pink & white little boy that used to sit in the school room when I used to go in to see you on the Cape. When you get to New Orleans you had better come home & you can get enough to do a safe business, if it is slow. Charlie wrote me not longt since he sent love to you & wants you to write to him when he says he wants to write you but did not know where you was he wanted I should give you his address and you to be sure to write.
Chaalres E. Hasings
Sergeant Major
56 Regmt-Mass Volunteers
Washington
District Columbia
He is camping Alexandria.
Your fathers shop room is going to be taken down this week & rebuilt (the old part). He is going away on a journey to the State of Maine & to Vermont. I am not going, we cannot both leave leave home. I have been to the Cape & made a short visit. Our family is not large now, we enjoy our house so much, the rooms are so high & cool & clean. We not furnished all & probably shant this season, but it seems good to have it. We have for use. Brown Randall has been a voyage & go home, he is satisfied with a sailors life. Charlie Fiske is at home tired of the Navy Soldiers are being mustered out of the service the war is over some are to be retained in the service a while longer. Saw Fannie Pope in Church today Lizzie Derter was with her & a young man from Middletown don't know his name, Father will write to you in a day or two. I hope you will write as often as you can I think you getting stuck love your Mother S. Hastings
About two weeks since, Florence scribbled a letter & put it in an envelope & put in two pieces of dried apple & wanted father to have it mailed & sent to Willie, in two days after, she wanted to know how Willie liked his dried apple & thought he might write to her & send her something. She speaks of you often, I am afraid you don't think enough of her. She is smart & active & sends her love.
In total the five items in this archive are:
1. The above letter written to William Dean by his mother Sarah Dean Hastings.
As a point of interest William Dean's mother Sarah first married William Dean Sr. in 1836 and they had two children ...Sarah Augusta and William Franklin Dean. Dean Sr. died in 1852, when his son was eight. Sarah then married George Hastings (1812-1873) who was proprietor of the Waltham Watch Co.
2. August 23, 1862 CONSENT IN CASE OF MINOR for signed by William's legal guardian George C. Rogers and witnessed by his mother Sarah Hastings attesting that William Dean is eighteen years of age and granting permission for him to volunteer as a soldier in the U.S. Army. Printed form with manuscript completion.
3. August 24, 1862 FORTY-FOURTH REGIMENT. NEW ENGLAND GUARDS certification that William Dean has enlisted in Company E of the 44th Regiment Massachusetts Volunteers and has been examined by a physician. Signed by Captain Spencer Wells Richardson (1834-1914). Printed form with manuscript compeltion.
4-5. Two copies of the September 29, 1862 CERTIFICATE OF DISABILITY FOR DISCHARGE stating that William Dean has been found to be "incapable of performing the duties of a soldier because of lack of physical development." Signed by Surgeon Robert Ware, a Boston physician who was commissioned into the 444th Mass Infantry on 9-12-1862 and died of disease on April 10, 1863. Printed form with manuscript completion.
All documents and the letter are very readable and invery good condition.