David Weston's Diary - The Boston Draft Riot Journal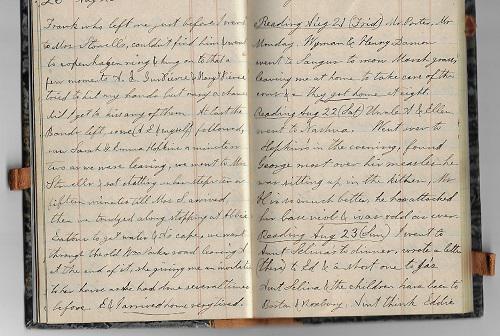 DAVID WESTON'S DIARY - THE BOSTON DRAFT RIOT JOURNAL
The journal #2 of David Weston, 61 Hudson St., Boston Mass. July 10, 1863.
Born in Boston, David Weston (1845-1922) lived the majority of his life in Reading, Mass., where he worked for the fire department and later was a clock-maker and then a farmer. Aside from riot and military content, Weston's journal does much to capture the daily life of a teenage boy during this period. He records the range of labor he performs - making shoes, sawing wood, splitting wood, raking grass, spading and teaming dirt, etc with many of his entries being rather humorous.
Throughout the journal David Weston documents in detail the violent Boston Draft Riot, its aftermath, and other Massachusetts military events amid the ongoing Civil War.
Selected journal entries:
Reading, Mass. 16 July "Made shoes yesterday, sewed six pairs. Went to the Village last night & stayed all night, came back early this morning.... The U,S. Government have been drafting men for the Army. Cousin Chris G. Rogers & George H. Porter are among the drafted. Don't know whether they will go or not. Tues 14th Provost Marshall Howe of Boston was delivering notices at the north end, when he was attacked by a mob of Irish & badly hurt. The governor ordered troops to be in readiness, in the evening a crowd got together in front of the Armory of the 11 Battery in Cooper St. the Artillery Company were in the building with a company of heavy Artillery from Fort Warren & part of a Co of US regulars from Fort Independence. The crowd pulled up bricks from the sidewalk...at last they broke the door open & drove most of the men away from a cannon stationed near the door when suddenly six pounds of grape swept through the door, killing and wounding several of the crowd Lieut Swain of the Battery was wounded severely, the crowd then ____ a Co of infantry & two Co's of Calvary came into the Square & drove the crowd out."
"Wednesday they got together quite a Military force. The 44th Reg Inf about 400 men (just returned from war) the Mars Rifle Club 100 men, Invalid Corps 30 men, National Guard Battalion 3 or 400 men, Independent Cadets 150 or 200 men, the 11 Battery about 125 men US Regulars 40 men (from Fort Independence) four Co's of Heavy Art from the camp at Readville. First Battalion light Dragoons & a Co of Inf from Medford all under command of Brig Gen Pierce of the State Malitia. Head Quarters at the City Hall cor Bedford & Chauncy Sts. The State House Bridges, gun stores, gen factories & C were guarded Wed. night, but there wasn't any disturbance. This morning the 45th Reg (just returned from the war) are at Readville ready for action >>>>There has been an awful riot in New York City over the draft."
16 July "Father came last night, after I went to bed, he brought me some papers telling about the Riot, the one in New York is partly quelled. No disturbance in Boston esterday."
16 August "Mrs H had a newspaper that said the 50th Mass Reg (the Reg Mr. H and Geo. were in) passed through Buffalo N.Y. that morning on the way home. Tues morning James came brought me a letter from E. Aunt Sabrina came from the village with James, after dinner there was a story round that the 50th had arrived in Boston & the reading Co. were coming at three oclock. Aunt Sabrina got Uncle Alfred to let us take his horse & hay stack & hey trimmed the rack up with birches. Aunt Susan, Aunt Sabrina, Phila Ann, James, Ebrina (?), Damon, Ellen & I got in & off to the village in grand style, stayed up there all the afternoon started back at seven had a pretty good time, the soldiers arrived in town fifteen minuted after we left, James and I played checkers in the evening."
19 Aug. "Last Wed night James and I rode to the village with Mr. Porter, I staid at Aunt Selina's all night & slept with James, Rodney came back with me with me Thur, morning James had to go home to be examined by the Drafting Surgeon Charley & Geo Henry went to Lawrence that day to be examined. Charley didn't pass. Geo Henry did, but he went into the office afterwards to see how to rest got along & the Surgeon called him in & examined him again & exempted him he said there was a trouble round his heart these were but two men accepted from this town, probably some of them paid $300 to be exempted. Last Thur the 13th was my eighteenth birthday, got a thrashing from Aunt Susan, Addie & Sarah H. came over here in the evening, & collared me but concluded not to thrash me."
23 Aug. "Wednesday (the 19th) the tours of Wilmington, North Reading & Reading joined together & had a reception Pie Nie (?) in honor of the 50th Regiment. Frank Symmes & I started off at half past nine, went up to Aunt Selina's. Frank hanged his cloths there, but twelve oclock a procession was formed the Germania Band (of Boston) leading then the Eagle Engine Co & the Reading Hook & Ladies Co. of Reading, then about forty of Co (most of the Co being sick Mr. Hopkins & George werre not able to be out) then came a lot of School children with the Woburn Brass Band, the procession wound up with a lot of ladies & gentlemen marching two by two.... A little after twelve the procession started down Salem St & marched to Parkers Grove, the Soldiers, firemen & Bands gathered around one table, and the people gathered around another table & made war on the dinner, Frank & I didn't get a very good place at the table I got a piece of brown bread but couldn't get any thing for a long time after. Then I got a roll then things appeared to be all gone but apples, I wasn't apple hungry for Frank & I picked Uncle Alfreds sweet apple tree that morning & eat as many as I wanted. I saw the people gathering around the other table (the Soldiers had got through).
"The stars & strips waved from a pole rigged on the tallest tree in the grove. After dinner the two bands mounted the platform & tuned up (one band at a time) then they organized a meeting putting Dr. Wakefield (of Reading) in Chairman who made very good Welcoming speech, that was responded to by Rev Mr Jones (of North Reading) for Capt Coburn then I heard Mr Appleton & Rev Mr Barrows of this time, speeches were made afterwards that I didn't hear by Col. Colburn ...... the bands played much tunes as I liked to hear between the speeches. After I had heard some of the speeches I looked around to see what the young folks were up to, found good many of them playing copenhagen, didn't find Addie & Ellen playing, tramped round in the crown a good while at last I found A & E ...... At last the Bands left, so we (A E & myself) followed."
The journal, which is neatly written, runs from 10 July 1863 to August 1863. It is 12 mo (5" x 3.25"), and written on marbled blue paper. There are 29 pages of manuscript and 81 pages which are blank. Very legible and in vg cond.