Fire Engine Photo Album - C. 1925-1970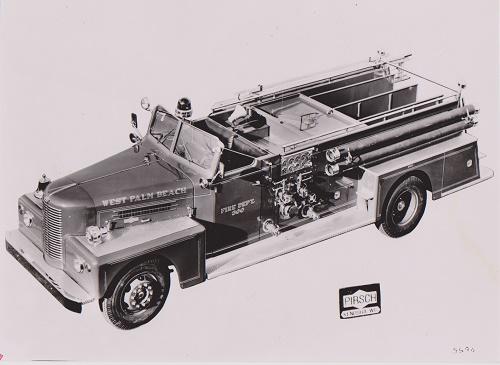 Fire Engine Photo Album. An excellent photo archive of 56 factory sales images for American La France, Mack, Pirsch, and Howe fire engines, including pumpers, aerial ladder trucks, and rescue trucks from these historic fire fighting equipment manufacturers. Elmira, NY; Kenosha, WI; & Allentown, PA: American La France; Pirsch & Sons; Mack Trucks, ca. 1925-1970. [56 leaves (unnumbered).], archival mylar sleeves w/ 56 silver gelatin photographs inserted, most w/ negative numbers, or photographer's info within the negative, some w/ pencil or ink annotations on verso, a few w/ photographer's stamps, and/or product information on versos. Recent red cloth post-binder, gilt lettering stamped on front cover, NF exemplar.
This uncommon photo album includes excellent original photographs of many different eras of fire engines manufactured in the United States from the 1920s up until about 1970. These images begin with a view of several mid-1920s American LaFrance Type 32 ladder truck fire engines for a Virginia fire company with a Miller & Gleason advertising sign in the background; followed by photos of several 500 & 600 series pumper fire trucks for Nashville, NY, Madeira Beach, Tahoe Fire District, and Avoca fire departments. This collection also includes many post-World War II 700 series pumpers and aerial ladder trucks, and rescue which featured sleekly tapered front ends with no grilles, and cab-forward configuration which resulted in reduced weight on the front axle, and increased forward visibility. Over 3000 700 series cab-forward fire engines were produced by American LaFrance before the last was built at the end of 1959. Represented as well are specialty fire engines produced by American LaFrance for such fire departments as Urbana, IL, Eureka, CA, Delray Beach, CA, Cold Springs Fire Co., a race track version, Lake Arrowhead, CA, and more. These photos also show a 1953 FWD 1000 gpm fire engine pumper for the Chicago Fire Dept., a Seagrave pumper for the Orlando, FL Fire Department, numerous 1939 Mack Fire Type 80s, a Mack Fire Type B85 with canopy cab, 1930s Howe fire engines, and several by the famed Pirsch & Sons fire trucks manufactured in Kenosha, WI. American LaFrance began producing horse-drawn and hand-drawn fire engines in 1832, and would continuously manufacture fire fighting equipment and engines until they relocated to South Carolina and went bankrupt during the Great Recession of 2008.