Grandest Scheme Ever Presented To The Public - Louisville, Kentucky 1873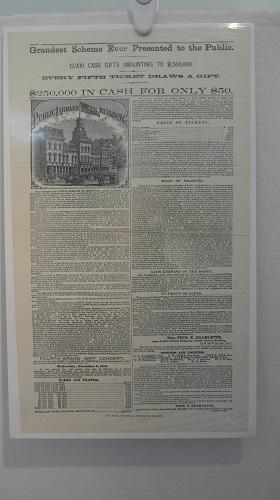 Broadside promoting the Fourth Grand Gift Concert [lottery] to benefit the Public Library of Kentucky, Louisville, 1873. This 17" x 10" broadside, illustrated with the same cut of the Public Library Building as in the item above, announces "Grandest Scheme Ever Presented to the Public. / 12,000 Cash Gifts Amounting to $1,500,000. / Every Fifth Ticket Draws a Gift. / $250,000 in Cash for Only $50". Printed in two columns by the Courier-Journal Printing House, the broadside gives the details of the winnings of the Third Gift Concert in great detail, even naming the winners. Ex-KY governor Thomas E. Bramlette was still acting as agent for the library project. The event was scheduled for December 3, 1873. No listings could be found for this attractive broadside.
Clean and bright and in Fine condition; fold lines from being folded in quarters; crease lines at bottom corners.