James Simpson's Important Color Plate Book on the Southwest Indians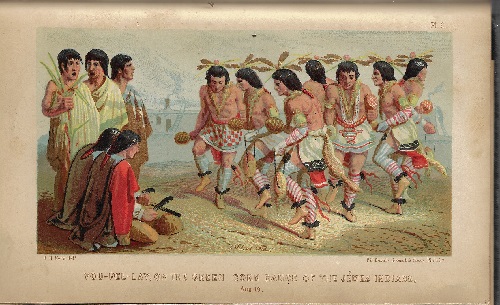 Simpson, James H. SANTA FE NEW MEXICO AND THE NAVAJO COUNTRY. (title page) JOURNAL OF A MILITARY RECONNAISSANCE, FROM SANTA RE, NEW MEXICO TO THE NAVAJO COUNTRY, MADE WITH THE TROOPS UNDER COMMAND OF BREVET LIEUTENANT COLONEL JOHN M. WASHINGTON, CHIEF OF NINTH MILITARY DEPARTMENT, AND GOVERNOR OF NEW MEXICO, IN 1849. Lippincott, Grambo and Co. Successors to Grigg, Elliot and Co. 1st. 1952. 140 pgs. Rear ads from page 1-24 followed by duplicate pages 9-12. 75 plates, many tinted, of Southwest Indians, geographic locations and related subjects. Included is the well known view of Santa Fe by Richard Kern. Also, a comparative vocabulary of the Pueblo language of the "wild tribes" of the borders of New Mexico.
"In 1849, Lieutenant Simpson made his journey into the American West, during an expedition commanded by Colonel John James Abert. Simpson surveyed a road from Fort Smith, Arkansas to Santa Fe, New Mexico. This was followed by a punitive raid against the Navajo, under the command of John M. Washington. Simpson included sketches and artwork from the brother Edward Kern and Richard Kern. Simpson then assumed responsibility as the Chief Topographical Engineer for the Ninth Military Department, based in Santa Fe." (Wikepedia) Simpson was the first Anglo explorer to visit and describe Chaco Canyon, Canyon de Chelly, Pueblo Bonita, Inscription Rock and other sites in northern Arizona.
Wagner-Camp 218; Graff 3789; Wheat Transmississippi 641; Field 1413; Howes S498; "aa"; Pilling, Proof-Sheets 3608; Bennett, p.98; Picturing American 590; Palau 31488; Reese, Stamped with a National Character 29; Goetzmann notes that the work is "a major Southwestern archaeological endeavor" and "no serious student can afford to neglect Simpson's report even in the present day." Field "one of the most accurate and complete of all narratives of exploration of the country of the Zuni and Pueblo Indians." Wheat praises the map as "An arresting production bringing out many new details of the region directly west of New Mexico."
Retains a large folding map with an old cellotape stain along short tear at gutter, scattered foxing, two bookplates one for Frank L. Hadley and one for William H. Claflin, Jr. Minor expected wear with cloth chipped from head and toe of spine, overall in vg condition. An Important color plate book pertaining to the Southwest Indians.