James Watson - Rhode Island Soldier Letter Telling of Trading Tobacco With The Confederates For Coffee and Soap - 1863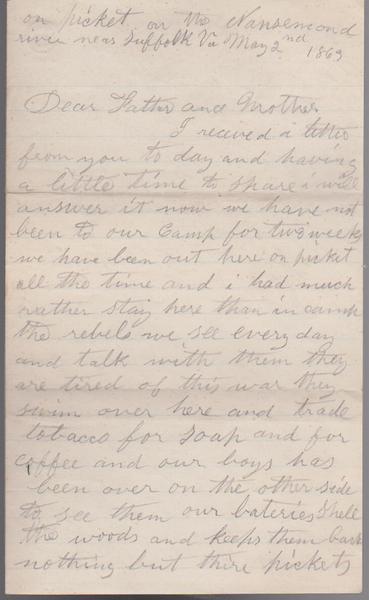 James Watson, a Rhode Island soldier writes the following letter to his parents Mr. Thomas S. Watson, in East Greenwich, RI from Suffolk, VA. Includes the original transmittal envelope with a 3 cent George Washington stamp. The letter which is here as written contains almost no punctuation, 2 1/2 pgs., written in pencil and is very readable.
(in full)
on picket on the Nansemond river near Suffolk, VA May 2nd 1863
Dear Father and Mother
I received a letter from you to day and having a little time to spare i will answer it now we have not been to our Camp for two weeks we have been out here on picket all The time and i had much rather Stay here than in camp The rebels we see every day and talk with them they are tired of this war they swim over here and trade tobacco for Soap and for coffee and our boys has been over on the other Side To see them our bateries Shell the woods and keep them back nothing but there pickets comes near The river you Say you was disappointed about The battle of Charleston i think our gunboats done wonders in getting in by the forts and now we know what our iron clads can do i think they Stayed as long as it was Safe for them to Dupont has done what no man can find falt with i had a letter from Lemoine the other day She is well i cant write much for i have got a chance to send this letter to camp to be mailed now so i will close with my best love to you both So good by till next time
James
p.s. i will write again Soon you must write often Sis sent me a paper today.