John G. legal Yellowstone national Park Photo Album - 1921-1922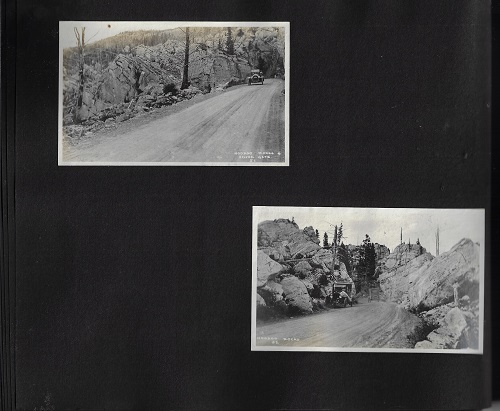 JOHN G. LEGAL YELLOWSTONE NATIONAL PARK PHOTO ALBUM
[AUTOMOBILE TRAVEL -- YELLOWSTONE PHOTO ALBUM]. Legel, John G. (compiler and photographer) This album, based on the identification of other Legal family albums, is attributed to the photographer John G. Legal from Clinton, Iowa. The majority of photos feature Yellowstone National Park as seen by the Legel family during their 1921 & 1922 Western automobile camping trips in their Ford Model T Centerdoor Sedan "Elizabeth" from Iowa to South Dakota, Wyoming, Montana, North Dakota, Minnesota, and back. The trip was from July 18, 1921 to August 19, 1921, and features the Grand Canyon, Yellowstone, & Glacier National Park in 1922.
Mounted in an IDEAL photo album from The J. L. Hanson Co., Chicago, there are 108 unpaginated black paper stock pages with silver gelatin photographs sized from 2.5 x 3.5 in. up to 4 x 6.5 in. Nearly all photos are identified with neat draftsman hand captions and negative numbers, 11 unnumbered, white manuscript lettered title, plus 24 mounted Haynes color linen postcards of Yellowstone, and a 1921 road map showing the Yellowstone Trail, and national highway routes through the West, Glacier National Park and the Pacific Northwest.
This remarkable automobile travel album documents a World War I veteran and architect's 1921-1922 road trips with his pharmacist parents, and fiancee as they drove from in their 1920 Ford Model T Centerdoor hardtop sedan from Clinton, IA to Yellowstone National Park, and back, with a follow-up trip to the Grand Canyon and Glacier National Park. Since most State highways, and roads across the country were still largely dirt and gravel, with occasional macadam, or paved, the Ford sedan proved ideal with its' low-powered 100 inch wheelbase, and ability to travel over mucky rutted roads, and also featured demount-able rims allowing quick tire-changes. The album opens with a remarkable series of photographs documenting the careful loading of tent, camping equipment, and luggage for the four, tied to the rear and running boards, with campsites set up in Lennox, near White Lake, Chamberlin, SD, and Sheridan & Parkman, WY. A few of the photos show Legel Jr.'s efforts to repair and maintain the tricky Ford, including a visit to the "Texaco" service station and blacksmith in Wyoming referred to as "the first hospital" in the caption. After visiting the Custer Battlefield in the Black Hills, camping and driving through Yankee Jim Valley, MT, and Gardner, the group headed into Yellowstone National Park. Images include those of a Yellowstone stagecoach, Angel Terrace, Liberty Cap & Devils Thumb, Jupiter Terrace, Hoodoo Rocks, Silver Gate, Roaring Mountain, Old Faithful Inn, Old Faithful Auto Camp, the Continental Divide, and more. The Old Faithful Auto Camp photo depicts many of their fellow travelers, with autos and attached tents interspersed throughout the stand of fir trees.
Many of the snapshots depict a rawer, more undeveloped Yellowstone, with visitors standing close to the Dragon's Mouth, a view of the Mud Volcano, and the roaring Upper Falls of Yellowstone, and view of Grand Canyon, as well as obligatory feeding of black bear cubs. After a quick trip to Roosevelt Dam at Shoshone Point, one of the Grand Canyon's best kept secrets, the group makes their way back through Wyoming, Petrified Forest, North Dakota and Iowa corn fields, and camping at Minnehaha Falls. The photos of the 1922 trips include those of "Elizabeth" driving underneath the Sylvan Pass bridge; the Kootenai River & Mountains, and unnamed ranch in Idaho, and even photos of Chief Crow Feathers and his son in ceremonial headdress at Glacier National Park. Also included amongst the images are photos and floor plan for projects worked on by Legel, Jr. underneath the J.C. Wood Co., including the St. John's Evangelical Church in Charles City, IA, and Clinton, IA High School. Legel Jr. (1890-1969) worked as an architect for the storied Curtis company in Clinton, IA until the tragic death of his wife Georgia (d. 1929) in childbirth, after which he became salesman for his parents pharmacy in Charles City, IA, and took over the longtime business following his father's death. His father John Legel, Sr. (1859-1930) was a longtime permanent resident of Charles City, served as mayor of the city, and was a four time Iowa state senator. Such well-curated and cohesive automobile travel albums to National Parks are unusual, especially in presenting a cohesive documented account.
A very well compiled Yellowstone National Park photo album by a citizen of Clinton, Iowa.