Letters of a WWII Soldier From Training to the Pacific Theater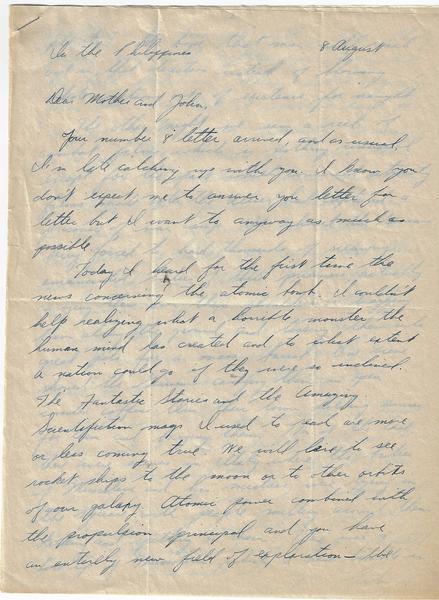 Dowhouer, Robert S.: (EXTENSIVE LETTER ARCHIVE FROM A YOUNG PENNSYLVANIA SOLDIER SERVING THROUGHOUT WORLD WAR II, WRITING TO HIS PARENTS AND GIRLFRIEND WHILE IN TRAINING IN TEXAS AND THEN FROM SEVERAL SOUTH PACIFIC LOCATIONS, TOGETHER WITH A GROUP OF HIS SQUADRON NEWSLETTERS]. [Ellington Field, Tx.; Solomon Islands; Philippines; Australia; New Caledonia; and others. August 1941 – September 1945). 245 letters, nine postcards, one Western Union telegram. Plus four issues of the Ellington Field camp newspaper, TAILSPIN, and nineteen issues of the 71st Service Squadron newsletter, THE COCONUT CALLER. Occasional toning and expected wear to letters and newsletters. Overall very good.
A large group of letters and rare printed unit newsletters from Robert S. Dowhouer of Harrisburg, Pennsylvania, who served with the 71st Service Squadron during World War II. Prior to the military Dowhouer worked as a linotype operator at Telegraph Press in Harrisburg. During the war, he trained in Texas from 1941 to 1942, and then moved around the South Pacific until 1945. He served a largely administrative role, but his letters are well-written and as informative as they can be, considering all letters sent home during the war had to pass through military censors. Altogether, the letters from Ellington Field and the South Pacific total around 675 pages. The archive includes thirty-two letters – all with original mailing envelopes, from Ellington Field, Texas along with seven postcards. The bulk of the letters are two pages on a single leaf of stationery (some longer), all written either to his parents or his girlfriend, Dorothy Steward. Folded into some of the letters are copies of the Ellington camp newspaper, the Tailspin. The letters concern activities on base and in Houston, personal finances, his promotion to Private First Class, observations on Texas weather, his responsibilities in the supply room, requests for supplies and apples from home, his experiences singing in the camp's glee club both in camp and around Houston, and much more.
Excerpts include:
Friday Eve – September 1941 "nothing has happened this week except that every morning at dawn about twenty airplanes start warming up and prepare to take off on a mock bombing flight. As you probably know, the third army is on maneuvers in Texas and Louisiana and planes use this field as a base."
Monday evening December 1941 "Well – all I can say is – the dirty slant eyed devils. Not that I'm afraid of being hurt but I'm thinking I won't be home for Christmas. The prevailing order of the day is no furloughs. Of course, it's possible that they be changed depending on just how bad things are – but we must have a picture pass in order to get off and on the post and we must wear a uniform at all times outside of our barracks. It's possible to get three day passes but that's the extent. Now – I don't want you to worry about me. Worry about the Japs and the men who fight them. Remember, this is an Advance Training School – a field on which pilots are trained to fly and fight but not a field where they do fight. Just as it was in the last war. And anyway I'm not trained for anything. I've never handled a gun, fixed a machine gun, tore down a motor – I never even had KP!"
Sunday Morning – Jan. 1942. "I'll explain my job again. My duties are taking care of all the clothing records of some 600 men and issuing clothing to them when they need it. That's all – but it is a lot of work. Need I explain further. I guarantee I'm the best dressed soldier in the squadron besides the supply sergeant."
In another letter Dowhouer witnesses the aftermath of a drunk-driving accident after coming back to camp from Houston: "...just as we got to the gate we saw a lot of flames leaping from a big burning freight truck – one of those ten ton affairs. Investigating a little closer we saw a small sedan burning also....We got out of the car and walked down the highway and saw them putting a girl, badly burnt, in an ambulance and on the highway was another girl lying and a doctor was just pronouncing her dead. We looked in the sedan which was a burning wreck and with aid of a flashlight saw a corpse in the rear seat and another in the front horribly burned – blackened. Whew! It developed that two couples had been to a picnic and evidently were drunk because they crashed into the truck, spraying gasoline on both cars and the truck dragged the car about 80 feet down the highway. "
The bulk of the archive consists of the 213 letters emanating from Dowhouer's service in the South Pacific; most letters are handwritten, but several are typed. The letters are written on a variety of paper stocks, mostly stapled, with some written on Army or American Red Cross stationery. The letters are dated with month and day, and even numbered sequentially by Dowhouer himself, but almost none identify the year in which they were written, making the chronology a bit difficult to ascertain. Still, these letters relate in great depth Dowhouer's thoughts and experiences from several points in the South Pacific during the war, including the Solomon Islands, the Philippines, Australia, New Caledonia, and "Somewhere in the Pacific."
Excerpts include:
10 November, "Dear Mother and John, pardon my sarcasm but I couldn't resist to clip out that head line from the Republican club paper. As we all know, too well the election is over. You would have been surprised to see the utter lack of concern over this election that existed over here. The radio brought us the news as quickly as possible, but there was no grouping around listening with bated breath, no comments pro or con. Roosevelt won – again. So what? Theirs a war on and we're far from home which is of more concern to us than all the presidential elections in the world. It is too bad that an election had to fall at a time when a war is only half or two-thirds over. Perhaps it's for the best, perhaps not. I wouldn't know over here just what did the Democrats have done as just what the Republicans wanted undone. Like millions of others – I just want to see this thing end and come home."
Dowhouer writes the next week, on February 22, [1945] about recent activities of the American military in the East:
There'll be an invasion of Japan some time and you know how much it cost to invade France and Germany. Here's the news. American marines landed another division on Iwo Jima, Japanese are wiped out on Bataan and are compressed in a pocket in a part of Manila, allied planes bombed Mindanao, etc., etc. So it goes, day after day, seemingly changeless but subtly coming closer to the end of this thing. But before it is over I hope to be home and reap a little hospitality from the populace before many of them forget there was a war.
In The Philippines – 25 May 1945: Dear Mother and John, "We've been eating in our mess hall for about a week now. The closest I can come to describing it is by saying that it's "stateside" only better. We eat off of trays, which is contrary to the way army units are supposed to eat. We don't have long tables. Each table seats only six with individual stools. The entire building is painted white overhead and the rest of it is of a walnut stain which includes the tables. The floor is entirely of concrete and the serving counter is covered with aluminum. The building itself is made from a navy Quonset hut which makes it arc shaped with part of the top raised and screened for better ventilation. There is plenty of room and plenty of air and plenty of refrigerator space for cold drinks. All we lack is fresh foods to go with it. Even they taste better however in those surroundings, I mean the rations we're eating now."
In The Philippines – 8 August (1945?): Dear Mother and John, "Today I heard for the first time the news concerning the atomic bomb. I couldn't help realizing what a horrible monster the human mind has created and to what extent a nation could go if they were so inclined. The fantastic stories and the amazing scientifiction mags I used to read are more or less coming true. We will live to see rocket ships to the moon or to other orbits of our galaxy. Atomic power combined with the propulsion principal and you have an entirely new field of exploration – the planets! Let's hope that man will reach out in that direction instead of blowing whole nations out of assistance for naught."
Dowhouer reports on various activities, such as the acquisition of a radio, rationing, seeing movies, watching a U.S.O. show hosted by Ray Milland, receiving a set of tumblers made from "37mm Jap shells by some fellows in our engineering section," swimming in the ocean, avoiding "malarial mosquito that might be in the vicinity," and more. He also muses on future business and family prospects, and whether or not he will qualify for Officer Candidate School. he writes a letter on September 8, 1945 which "will be the first letter I've written overseas that will not be censored." This was less than a week after the formal surrender of Japan was signed on September 2, effectively ending the war.
Dowhouer touches on recent American military movements in the Pacific: "The news sounds pretty good, doesn't it, what with the Marianas being raided [here referring to the Mariana and Palau Islands campaign by the U.S. military], Japan being bombed and the invasion in Europe [D-Day less than two weeks before this letter was written] not to mention Italy and the Russian front. But the Pacific is not going to be a cinch – we got a lot of stones to step on yet before the might of the Japanese army has been deleted from the face of the earth. But we'll make it some day come hell or rotation."
September 8, 1945 letter, his first uncensored letter from the Pacific, he opens up about some of the actions he has been unable to report due to censorship; plus he reports for the first time that he is coming home:
"You've known all along that I've been in Sumar so that will not be news to you. Before we came here we landed in Leyte for about a week. There's really nothing more to tell except that if the Japs hadn't given up when they did we would now have been in Okinawa. We had just been alerted and told to start packing when the Japs broadcast their first surrender feelers. Maybe you noticed how blue my letters sounded around that time. It was simply because we were scheduled to move up again and at a time when we were very comfortably settled and sweatin' out our return to the states. The end of the war was the only thing that saved us a lot of work, sweat and danger in another combat zone. And now I'm coming home....Just make sure the Ford's in running condition and line me up a good tailor....Gosh it feels good to know that home is not merely an idle dream anymore but almost a reality. I must go thru a replacement camp on Leyte, board a ship, sail to San Francisco, get processed thru there, board a train to the [Indiantown] Gap – a long way home but a damn site closer than it ever was."
Dowhouer's letters end with a September 12 communication in which he relates some of the experiences he was unable to tell before. He also again mentions the history of his unit that he had been writing during his time in the service:
"Hope you've received my manuscript on the adventures of the 71st. I'm sure it will eliminate quite a lot of talk on how soldiers lived – at least how we lived – during the first couple years. I never wrote much about my trip to Australia over 3000-odd miles of water and uninhabitable land which was mostly New Guinea and some combat zones as far as Biak Island which was subject to bombings in December 1944. I never told you about the time the tire blew out on a small C-78 in which we had flown up from Guadalcanal. No crack-up but for one minute I sweated blood."
Along with the vast archive of Dowhouer's letters is a grouping of his unit's mimeographed newsletter, The Coconut Caller. Present here are nineteen issues, Vol. I, nos. 7-20 and 23, and Vol. II, nos. 1-4. The issues range from six to fourteen pages, stapled, and are filled with unit news, soldier biographies, poetry, baseball scores from the Squadron League, comics, word puzzles, artwork, and more. The first issue here includes a printed biography of Dowhouer on page 5, which is annotated in the margins in ink by Dowhouer himself. Responding to a line in the biography suggesting Dowhouer plans to marry Dot when he gets home, Dowhouer writes in the margin, "They jump to conclusions, don't they?"
The most prominent visual feature of the newsletters are the cover illustrations, each featuring a scantily clad (and in a couple of cases, topless) pin-up style cover girl. The illustrations are signed in print "H.A.R.," which is almost certainly Sgt. H.A. Rolin, who is credited variously as the "Designer" and "Art Director" before becoming "Editor" of the newsletter in its last few issues. No copies of any issues of The Coconut Caller appear in OCLC.
A wonderful archive of manuscript correspondence and rare printed periodicals from both Ellington Field and the South Pacific, all sent home by a prolific American soldier to his mother and sweetheart during World War II. Robert S. Dowhouer died at the age of 96 in Hummelstown, PA on Tueday, May 15, 2012.