Liberty County, Texas Map - 1895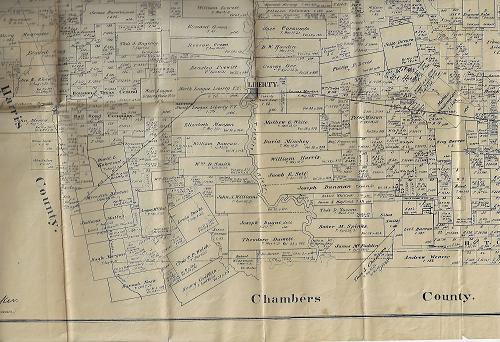 MAP OF LIBERTY COUNTY. GENERAL LAND OFFICE. August Gast and Co. St. Louis. 1895. Folds out to 25.5 x 26.75 inches. A scarce map, quite detailed of Liberty County in east Texas, which lies between Houston and Beaumont, at the end of the 19th century. The map is quite comprehensive showing individual and corporate ownership of parcels throughout the county, including that land which was held by railroad companies. Rivers, railroads, cities and towns are all accurately located. Nearly all of the large grants along the Trinity River are dated to the 1830's and many are dated to 1831, the year the municipal area was established by the Mexican government.

OCLC locates one copy at the Library of Congress and another is found at the Abilene Public Library. An outstanding cartographic snapshot of an East Texas county before the region was transformed by the discovery of oil at the beginning of the 20th century. Light tanning, minor and occasional fox marks, a few small separations along fold lines which are archivally repaired on verso. overall in vg cond.