Lumber - Wm. Nason's Lumber Yard - Bloomfield, Michigan - 1870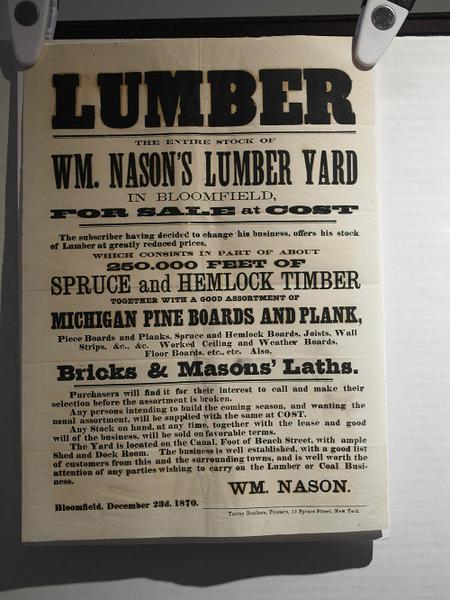 LUMBER THE ENTIRE STOCK OF WM. NASON'S LUMBER YARD IN BLOOMFIELD, FOR SALE AT COST....250,000 FEET OF SPRUCE AND HEMLOCK TIMBER TOGETHER WITH A GOOD ASSORTMENT OF MICHIGAN PINE BOARDS AND PLANK, . Piece Boards and Planks, Spruce and hemlock Boards, Joists, Wall Strips, & c., &c. Worked Ceiling and Weather Boards, Floor Boards, etc., etc. Bricks and Masons' Laths........ Any persons intending to build the coming season, and wanting the usual assortment, will be supplied with the same at COST. ......The yard is located on the Canal, Foot of Beach Street, with ample Shed and Dock Room.....
WM. NASON. BLOOMFIELD, DECEMBER 23d, 1870.
Broadside was printed by Torrey Brothers, Printers, 13 Spruce Street, New York. 10" x 14'. vg cond.