Map of Burgoyne's Positions at Sword's House on the Hudson River - 1777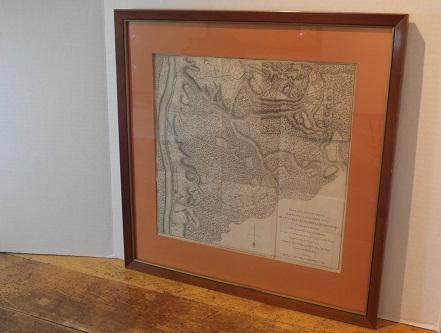 (Map)
PLAN OF THE ENCAMPMENT AND POSITION OF THE ARMY UNDER HIS EXCELLY.LT. GENERAL BURGOYNE AT SWORDS HOUSE ON HUDSON'S RIVER NEAR STILLWATER ON SEPT 17TH WITH THE POSITIONS OF THAT PART OF THE ARMY ENGAGED ON THE 19TH SEPT 1777. Drawn by W.C. Wilkinson Lt. 62d. Regt. afst. Engr. Engraved by Wm. Faden.
Taken from Burgoyne's book A STATE OF THE EXPEDITION FROM CANADA, AS LAID BEFORE THE HOUSE OF COMMONS. The partially colored engraved map with hinged over slips, depicts the battle positions and troop movements of the opposing armies. Drawn by W.C. Wilkinson and Engraved by Wm. Faden. This Sword's House map "depicts, among other particulars, the "First and Second Positions of the army engagement on September 19th and also, tipped to the margin is an overlay map depicting the Third and Fourth Positions of the Army on the same date."
Streeter states of the book and map "Burgoyne defends his actions in the campaign that led to the disaster at Saratoga. He proves in this work that his army was half the size he had demanded, and was badly provided for. The work is one of the best sources on the campaign." Howes B968. Sabin 9255. ESTC W34205. Streeter II:794. Stevens 27. Staton and Tremaine 503.
Map in vg cond. Framed.