Natchez, Mississippi Civil War Manuscript Letter Concerning Black Soldiers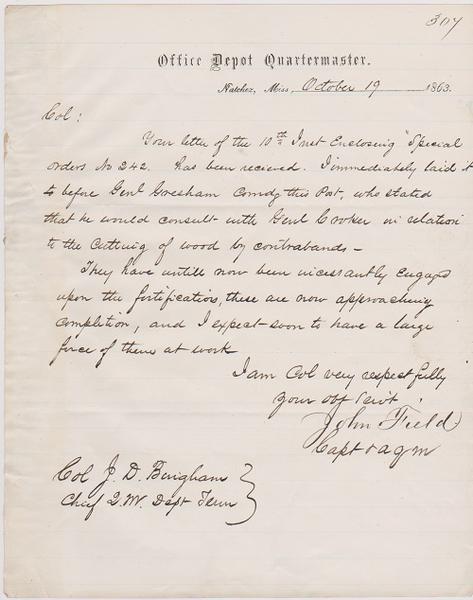 (Slavery - Civil War - Natchez, Mississippi Manuscript Letter) President Lincoln, after the issuance of the Emancipation Proclamation (1-1-1863) authorized the use of runaway black slaves or contraband in service of the U.S. Army. This manuscript from the Office Depot Quartermaster at Natchez, Miss. authorizes the use of contraband slaves for cutting wood.
"Office Depot Quartermaster
Natchez, Miss., October 19, 1863
Col.
Your letter of the 10th inst Enclosing "Special orders No 242 has been received. I immediately laid it before Genl Gresham Comdg this Post, who stated that he would consult with Gen Crocker in relation to the Cutting of wood by contrabands.
They have until now been incessantly Engaged upon the fortifications, these are now approaching Completion, and I expect soon to have a large force of these at work.
I am Col very respectfully
Your obt Serv't John Field Capt and aqm
Col J.D. Burgham Chief Q.M. Dept Tenn.
(obverse)
Recd Memphis Oct. 27, 1863
Crocker was mustered into the volunteer army as a captain of the 2nd Iowa Infantry on May 27, 1861. Four days later he became a major and by December 31 was colonel of the 13th Iowa. He fought at Shiloh where he led the 1st brigade of John McClernand's division and where it sustained 172 casualties. Later Crocker was given command of the "Iowa Brigade", 6th Division, Army of Tennessee. he took part in the Battle of Corinth in October, 1862, and was promoted to brigadier general to rank from November 29 of that year. In the Vicksburg campaign he directed a division of James B McPherson;s XVII Corps. In September, 1863 his division conducted a minor raid into Louisiana; then it was in garrison at Natchez during the fall and winter.
Gresham was colonel of the 53rd Indiana. His regiment was not under fire at Shiloh, but did fight in the Vicksburg campaign, where it formed a part of Lauman's division of the XVI Corps. On August 11, 1863 Gresham was appointed brigadier general and assigned to command a brigade of the XVII Corps. On August 11, 1863, Gresham was appointed brigadier general and assigned to command a brigade of the XVII Corps at Natchez.