Oklahoma Cowboy Frank Giles - 101 Ranch - Buffalo Bill Cody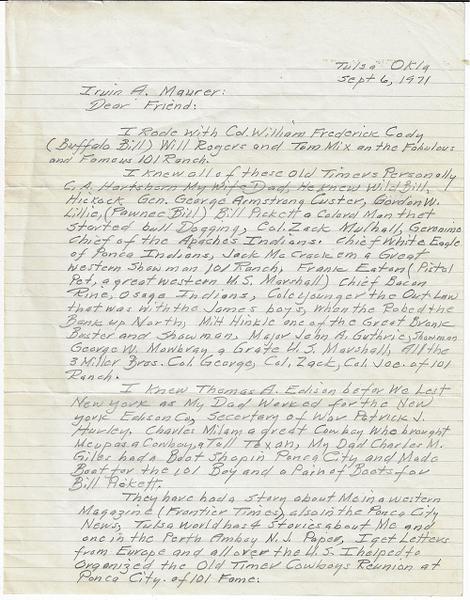 A fascinating 4 pg. letter, ALS, to Irvin A. Maurer, dated Sept. 6, 1971, Tulsa, Okla. in which Frank Giles relates some of his experiences concerning the 101 ranch, famous western personalities he has known and a description of the capture of a horse thief and a shootout between Ida Red and the marshal. Also included is a postcard of the Pioneer Women Museum in Ponca City with the notation that "I have a few articles that I have given to this Museum"
In part the letter reads (uncorrected):
"I Rode with Col. William Frederick Cody (Buffalo Bill) Will Rogers and Tom Mix on the Fabulous and Famous 191 Ranch."
" I knew all of these Old Timers Personally C.A. Hartshorn My Wife, Dad, He knew Wild Bill Hickock, Gen. George Armstrong Custer, Gordon W. Lillie (Pawnee Bill) Bill Pickett a Colored Man that started bull Dogging, Col. Zack Mulhall, Geronimo Chief of the Apaches Indians. Chief White Eagle of Ponca Indians, Jack McCracken a Great Western Show man 101 Ranch, Frank Eaton (Pistol Pete, a great western U.S. Marshall) Chief Bacon Rine, Osage Indians, Cole Younger the Out Law that was with the James boys, when they Robed the Bank up North, Milt Hinkle one of the Great Bronc Buster and Showman, Major John A. Guthrie, Showman George W. Mowbray a Grate U.S. Marshall, All the 3 Miller Bros. Col. George, Col. Zack, Col. Joe of 101 Ranch."
"The Cowboy was and is a distinct Individual type of genus American, He was Rough and gentle , Wild and Complacent, He acquired a professional Skill in Specialized, Dangerous Work that often he seemed to think was Created Soley for his amusement."
"He Was the Proto-type of the genuine American, Liberty loving, Independent, Self-reliant and ambitious."
"Above all are My happy Memories of My Association With the three wonderful Miller brothers, especially Col. Joe Miller, who was the finest Man I had ever Known, and Many of the Cowboys I write to also very often years Later, and Geronimo Visit to the 101 Ranch."
"I never Will forget the times a Cowboy asked if he Could bunk with me, and I said yes. The Next Morning the Marshal and several lawman Came by looking for a fellow who had been Stealing horses, I Identified him, The Marshall Said I was too young that he could not deputize Me, because I was to young, but that I could go along for the Ride, which I did. They caught him as I remember, where the Cimarron River empties in to the Arkansas, He said he would Kill Me after he got out of Jail."
"Ida Red went to Work for the 101 Ranch in about 1880, In the early 1900, Ida Red got in Trouble in a Bar and the Marshal Steped in and they both agreed to go out Back to fight it out with their fists, both put their Guns on the Bar, So both unbuckled them and Laid them on the Bar, on the way out the Back door, Zack Saw the Marshal take a Derringer out of his Vest and Called to Ida saying the Marshal has a Gun, and then threw his 45 Colt to Ida Red, Ida Caught the Colt and Fired and shot the Marshal, he did not Kill him but thought he had so Went South as fast as he could and took a boat to Africa and started a Ranch and No one heard from him for some time he wrote to Zack in 1950. I am getting tired so Will quit."
The letter is very legible, written on lined paper with original transmittal envelope.