Pennsylvania Muster Roll - 1850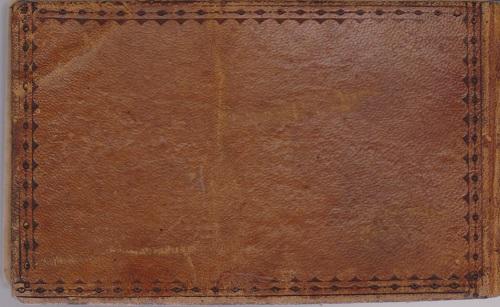 [PENNSYLVANIA -- MILITARY HISTORY]. [SAYLOR, Sr., Captain Samuel K. & SAYLOR, Jr., Captain Samuel K.] [Muster Roll manuscript for the Montgomery Rifle Blues, an Eastern Pennsylvania, Montgomery County Militia first organized in May, 1850, including the militia bylaws, receipts, and muster rolls in towns around New Hanover, Pennsylvania before and after the Civil War. Before the Civil War, the company was commanded by Samuel Saylor, Sr., and when reorganized again in the 1870s by Samuel Saylor, Jr., with reference to the younger brother Gideon as well]. New Hanover, PA: Montgomery Rifle Blues, Samuel Saylor, 1850-1875. Oblong 8vo. 6.5 x 3.9 in. [200 pp (unpaginated)]. Paper ruled vertically so manuscript intended to flip up horizontally, rather than read in landscape format, assorted hands recording details in manuscript in pencil & ink (approx. 40 pp. blank), w/ annotations & markings on front & rear endpapers, pastedowns. Contemporary full calf, black & gilt spine label [Receipts], embossed ruling to covers (edgewear, rubbing, thumbing & soiling to interior, some wear), still a remarkably sound exemplar, together with numerous letters from the Historical Society of Montgomery County, photocopied documents, along with letter from the Pennsylvania Historical and Museum Commission, State Archives, Harrisburg, PA.
This well-documented and scarce muster roll manuscript details three different Montgomery Rifle Blues companies organized by Captain Samuel Saylor near New Hanover, PA before and after the Civil War. This work offers an invaluable historical military record of many of the Pennsylvanians who served with the local militia, and then saw service during the Civil War. The manuscript begins with the Bylaws of the Montgomery Rifle Blues, first organized May 31st, 1850, and signed by 26 men, written over a penciled list that was somewhat longer. The various Militia Acts and Revisions (1777, 1780, 1803, 1818, 1842 & 1848) generally required a specific number of days of drilling, and a Battalion Day on the 4th Monday in October each year. They were permitted to write their own bylaws and constitutions, pay for their own uniforms and weapons, and determine fines for infractions of the rules, which were part of the way these companies paid their own expenses. After riots and strikes in Philadelphia in the late 1840s, all Pennsylvania Counties were encouraged by the Adjutant General to maintain militias that adhered to at least four drilling days per year in order to maintain readiness. Many of the mustering places in the manuscript make reference to locations such as the local tavern -- Abraham Cross' Tavern, Henry Potts' Publick House, local inns -- Daniel Keller's Inn, and even the local Swamp. A couple of the identifiable muster places include Gilbertsville, Douglas Township, and others in Montgomery County, PA, but several of them are obscure references to towns which have since been absorbed onto larger townships and villages. In 1860, the Montgomery Rifle Blues under command of Captain Saylor were designated as 2nd Brigade, Second Division, Pennsylvania. At the outbreak of the Civil War, rural Montgomery County boasted 12 active volunteer militia units which met yearly for their Battalion drills, and in 1859 Norristown served as the location of a large military parade which featured most of these units including the Montgomery Rifle Blues. Captain Saylor, Sr. (1799/1801-1888) was a very successful farmer in New Hanover, and later Hotel owner in Hoffmansville before and after the Civil War, who was commander of three different militia companies, married twice with many children. There are several references in the manuscript to Samuel Saylor, Jr. (1834-1919), serving as Sergeant, and then in the 1870s as the succeeding Captain to his father. Saylor, Jr. served with the 179th Regiment which was organized in 1862, and discharged at the end of July, 1863, and was under the command of General Dix in the Army of the Potomac under General McClellan in Virginia. Gideon Saylor (1841-1928) served with Company L, 17th Pennsylvania Cavalry from 1862, fought at the Battle of Gettysburg, and eventually mustered out in June 1865. In addition, there are many other members listed in the muster rolls who saw service during the Civil War, and who received initial rudimentary training as Montgomery Rifle Blues members. overall in vg cond.