Photo Album of the 1964-65 Christmas Flood - Salem, Oregon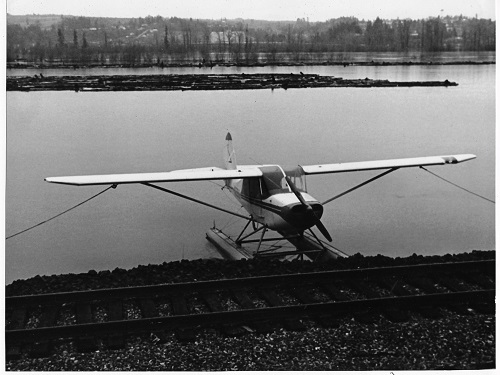 PHOTO ALBUM OF THE 1964-1965 CHRISTMAS FLOOD OF SALEM, OREGON
An incredible photo album of forty-two black and white photos (7 ½ x 9 ½ inches) which give an accurate visual depiction of the Salem, Oregon, Christmas Flood, between December 18, 1964 and January 7, 1965. According to the National Weather Service in Portland, Oregon, this flood was "the most severe rainstorm to ever occur over central Oregon, and among the most severe over western Oregon since the late 1870's". With flooding conditions beginning on December 18, 1864, by December 23, the Willamette River had crested at thirty feet. In Oregon, 18 people died as a result of the disaster and it caused hundreds of millions of dollars in damage. The flooding on the Willamette covered 152,789 acres. When it was all over the flood was rated as the fifth most destructive weather event in Oregon in the 20th century.
The photos in the album are all titled. Amongest the scenes are: Ankney Bottom Looking Towards Albany; Center Street Bridge; Church Street; 13th Street; Mill Creek – Mill Sut Down – 5ft 9 in. in Basement; Liberty Street – Mill Parking Lot; Minto Island – Flood Peak; National Guard Blocking Kaiser – Looting Had Been Reported; U.S. Coastguard Helicopters Search For The Stranded; Pringle Park; Park Clubhouse; South River Road; Seaplane Tied To Oregon Electric Tracks; Flood Refugee; My Crayfish Traps Are In The Basement; River Road At Porter's; Salem Memorial Hospital; Blind School – Memorial Hospital; Memorial Hospital (Evacuated); Railroad Bridge Foot Of Marion Street; Water Entering Mill Holding Pond; Flood Peak; Moorage; This Was Taken Seven Days Later; Orchard – This Was Rich River Loam.
The National Weather Service lists the flood as number five in its list of top weather events in Oregon in the 20th century. "The December 1964 rainstorm was undoubtedly the most severe rainstorm to ever occur over central Oregon, and among the most severe over western Oregon since the late 1870s. Several observing stations across central Oregon recorded two-thirds of their normal annual rainfall in just 5 days....Widespread severe flooding occurred, with at least 30 major highway bridges receiving such damage as to make them unusable. The new multi-million dollar John Day River Bridge was destroyed as were scores of bridges on county and secondary roads. Hundreds of miles of roads and highways were washed out or badly damaged. Thousands of people had to be evacuated due to ensuing floods....Hundreds of homes and other buildings were destroyed and an even greater number were badly damaged....Virtually every river in the state was far above flood stage and mudslides, bridge failures, and inundation closed the state's roads, airports, and railways. Reservoirs were overwhelmed early on in the storm and many proved unable to release water fast enough to prevent over-topping. Dorena Dam, south of Eugene, had water flowing over the top more than 8 feet deep."
(Source; Wikepedia; National Weather Service, "Oregons Top 10 Weather Events of 1900's (Portland, Or. NOAA Portland Weather Forecast Office) Kathleen Clements Carlson "Christmas Week Flood Brings Major Flooding December, 1964" Salem Online History (Salem, Or. - Salem Public Library)
All photos are in vg cond with great contrast and mounted in a green string tied photo album stamped Photographs.