"Poor Roads - Carry your own Food - Bring Your Own Tent For lodging Where Somebody Would Let You...1914"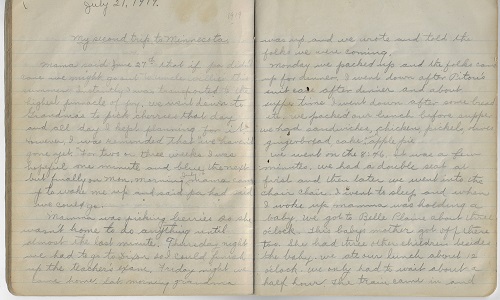 "POOR ROADS - CARRY YOUR OWN FOOD - BRING YOUR OWN TENT FOR LODGING WHERE SOMEBODY WOULD LET YOU..." 1914
(Minnesota - Iowa - Illinois) Gehant, Alice. A manuscript diary recording her automobile trips through Illinois, Iowa and Minnesota between 1914-1925. 79 diary pages covering (1) "Our Trip to Minnesota - August 19, 1914" 23 pgs. (by car) (2) Aurora and Joliet, 1917. 5 pgs. (by car) (3) "My Second Trip to Minnesota, July 21, 1919." 15 pgs (by train); (4) Mt. Vernon Trip, November 28, 1923. 6 pages (by car). (5) Mt. Vernon Trip Number 2, May 15, 1924. (6 pages). (6) Mt. Vernon Trip Number 3, June 6, 1925, 2 pages. (7)3rd Trip to Minnesota, August 15, 1925, 16 pgs. Pages and accounts inlaid at rear. The Gehant family was from Ashton, Lee County, Illinois.
Poor roads, carry your own food, bring your own tent for lodging where somebody would let you...all of this and more were the everyday situations of early 20th century travel. Miles traveled were slow, gas was cheap by today's standards, but every town and city had to be gone through as there were no super highways and progress to your end destination for the most part was slow.
"When Grandpa first suggested our trip I was afraid it would turn out like it did last year, but it didn't to my surpirse. We couldn't go until we had threshed and we were the last in the ring.... We took a piece of bacon, about 30 eggs, boiled chicken, potatoes, tomatoes, salt, pepper and sugar, coffee and tea, pickles, bread, a can of condensed milk and some jam. We started from home Wednesday, August 19, 1914 and about 11:30. We went to Ashton first as we had to get Gus Wagner's blue book, papa's watch, a basket of peaches and our travelers check. I and the auto stayed down below the track as we didn't want to go through town all loaded up. While waiting there I started this story..."
The diary commences with Alice's family packing up their "auto" with blankets, canned goods, clothes, toiletries and their tent. The family would typically travel along until nightfall then stop at a home along the road and ask permission to camp in their front yard or elsewhere on the property. These requests were usually granted. Alice relates particulars of the persons encountered in the towns along the way in these trips which occurred over a ten year span. Some trips have more detailed entries than others.
Quotes from various trips:
Wednesday: We passed through Marshalltown early in the morning. They were having the State fair there. A little way out of Marshalltown there was a big puddle of mud, we turned out along the Side and we got stuck. We went out to the fence where we got a pointed fence pole, Pa dug out in front of the wheel and then he got in and ma pushed but we couldn't make it go. Then he got out and put a board in front of a couple of wheels and still it wouldn't go. Then a couple of fellows in a 1914 Reo came along and they got out and pushed but it wouldn't go. Then we got our chains out and hitched on to the front of their car and they pulled us out. When they started they got stuck on the other side. Then we had to back through the mud and pull them out. We fixed our lunch in the mourning and didn't stop long at noon. In the afternoon the roads in some places were dreadfully rough. In one place there was a hole in the road about as big around as a dishpan where it had cave in....We stopped for the night at a place east of Lisbon. Their name was Andre. We all slept in the house in one bed. They had a fine big brick house. The man was always swearing we found three or four whiskey bottles out in the barn. They charged us a dollar."
"About 5:30 we had supper. Pork tenderloin, fried potatoes, brown gravy, sliced tomatoes, beet pickles, cabbage slaw, bread butter and jell and pie. I had chocolate pie and buttermilk."
Tuesday July 29, 1919. "Next we went to Estherville about two miles out we saw an airship. It circled around a couple of times and then finally lit right in the next field. A passenger got out and we got out of the car and went over and took two pictures of it. They another passenger got in and we saw it start up again."
Mt. Vernon Trip - Wed. Nov. 28, 1923. "Had a load going out. Took 2 comforters, woolen Blankets, 30 qts of fruit (2 beef, 1 pork, 1 cranberries include) onions, carrots, krout, Raisins, Celery, Bread, Butternut Cake, Mince pie, can corn, cookies, mamma's coat, etc., etc."
3rd Trip to Minnesota, Sat. Aug. 15, 1925 "Had an American Kamp Cook gas stove (Made at Albert Lea, Minn.). Had cupboard made on side and door comes down for table. On other side had a long box with cover on , on running board for clothing and also place for the dog."
Mon. Aug. 17, 1925. "Just a wonderful morning. Such air and sky. Left Nashua camp about 7:20. Charles City next city. 8:15 when we left. Quite nice city. Floyd next. Pop. 350. fine paving to Mason City. Rudd. reg. 562 56 miles to Albert Lea. A couple of miles out. 9:00 M. Nova Springs next town at 9:15. A Pretty place. Tourist park. Bot bread - 20, Pork Steaks - 20, cheese -10; Peanuts - 05."
Aug. 27,1925. "Talked with a man who had toured Texas last year and had taken 27 baths at hot Springs. He and a boy camped at the same place."
All the trip diaries are kept in a single Pippin Composition Book. The writing is in pencil and very readable. Overall in vg cond.