Queen Anne and Beaux Arts Photo Album - c. 1899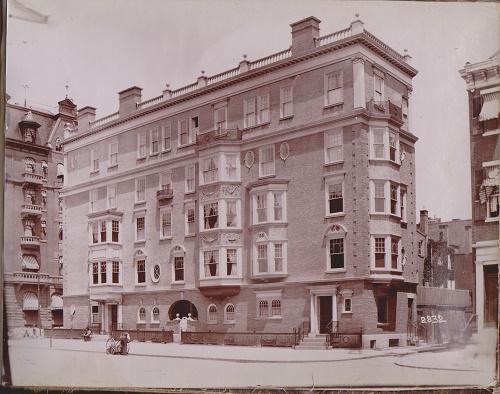 [ARCHITECTURE -- QUEEN ANNE & BEAUX ARTS]. Fielding, Jr. Mantle; Wright, Frank Lloyd; Richardson, Henry Hobson; Silsbee, James Lyman; McKim, Charles Follen; Mead, William Rutherford; White, Stanford; Trumbauer, Horace, et al.. Allegeir, Charles Murry (Photographer)]. Suburban work. No. 6. An extraordinary architectural sample photo album assembled by Mantle Fielding offering designs for his many prospective clients in the Gilded Age, featuring homes and buildings in Chicago, Philadelphia, Cleveland, New York, Rochester, Buffalo, Boston, Detroit, and many other cities designed and built by the leading architects at the end of the 19th century, as well as up-and-comers like Frank Lloyd Wright, with an image of his bootleg house for George Blossom present in this collection. [Philadelphia, PA: M. Fielding Architect, ca. 1899]. Oblong 4to. 81 albumen photographs, backed in linen, and sized from 7.5 x 9.5 up to 7.5 x 10 in., w/ nearly all bearing ink or pencil annotations, architect stamps, or photographer's stamps on verso. Contemporary black quarter-calf over black cloth, gilt lettering stamped on front cover (rebacked & recornered in 1974 by Distinctive Bookbinding, Inc. w/ dated invoice laid-in, occasional curling to fore-edges, minor fraying to linen at fore-edges), still an excellent exemplar from the library of Lee H. Nelson (1927-1994), who graduated from Univ. of Oregon in 1957, Masters in Architecture at Univ. of Illinois in 1958, and was hired immediately by Charles E. Peterson, founder of the NPS Historic American Buildings Survey. His most significant project was the preservation of Independence Hall for the Bicentennial, and appears to have acquired this album in 1960. TLS from Betsy Fahlman to Lee Nelson in 1980 referencing the Freer House and Fairacres designed by Wilson Eyre's in this album, together with typed biography of Mantle Fielding.
This exceptional photographic architectural sample book documents some of the most significant American architects of the Gilded Age, highlighting the influence of Henry Hobson Richardson's Romanesque Style, the growth of the Queen Anne style, as well as the influences of Wilson Eyre's "Shingle-Style" homes, and the Beaux-Arts designs of McKim, Mead & White. This album features an excellent sharp image of the newly built Austin Hall at Harvard University which was finished by winter of 1884. Of special interest is the presence of what may be one of the earliest images of the newly completed house for George Blossom, one of the famed "bootleg" homes designed by Frank Lloyd Wright while he was still under contract with Louis Sullivan at the age of 25. This Colonial Revival home is nearly symmetrical in plan, with library, reception room, and living room radiating from the hall, Palladian windows distributed evenly, and a semi-circular conservatory echoing the columned front porch, and the present photo shows construction debris still strewn about the dirt yard, a newly finished roof, and unpaved Kenwood Ave. in front. Fielding (1865-1941), who was well known for his Colonial Revival and Queen Anne style homes, has included many photos for clients to pick from, of his residential homes and apartment buildings, including two photographs of his historic Mantle Fielding House on 28 West Walnut Lane, which incorporated a double row of Colonial Columns into a historic Pennsylvania Farmhouse, reflecting some properties of the McKim, Mead & White Cricket Club designs. It should be noted there are also two photos in this album of the famed Cricket Club designed by the famed Boston, MA architects, as well as many of their homes and apartment buildings. Also included are images of numerous homes by James Lyman Silsbee (1848-1913), whom young Frank Lloyd Wright worked for before Sullivan, including the stunning F.R. Hazard home in Syracuse, NY; several houses by famed Buffalo, NY architect James H. Marling (1857-1895) who supervised many of Silsbee's projects and was in partnership with him for a while; Franklin Pierce Burnham's (1853-1909) striking Kenilworth, IL train station, which is now on the historic register, the famed Columbus Memorial Building which was begun in 1892 and finished in time for the Columbia Exposition in 1893 featuring signs announcing the opening of the famed Pitkin & Brooks China Store; William Le Baron Jenney (1832-1907) considered the father of the American skyscraper, with an early shot of his Isabella Building constructed from 1892-1893 in Chicago, and torn down for a parking lot in 2004; two "Cottages" designed by George T. Pearson (1847-1920), whose primary patron was John Stetson. In addition, there are many photographs of homes and buildings by such noted architects as Forrest A. Coburn (1848-1897) & Frank Seymour Barnum (1850-1927) famed Cleveland, OH architects who designed over 20 homes along Euclid's Millionaire's Row; Horace Trumbauer (1868-1938), best known for his Grey Towers Castle built for William Welsh Harrison, now Arcadia University; Charles Frederick Schweinfurth (1856-1919), John Foster Warner (1859-1937), noted for designing the George Eastman Home in Rochester, NY; Walter Cope (1860-1902) & John Stewardson (1858-1896) known for their Collegiate Gothic designs; Albert Yarnall & William Goforth, and O.J. Pierce (fl. 1890s). Charles Murray Allgeier (1848-1942?), flourished as a Chicago Commercial photographer from 1885 to 1899, and was well known for his architectural images, especially Chicago architects, and was often commissioned by their clients to shoot interior images as well. By 1900, he is listed as working for the Post Office, where he continued to work until retirement, with his last directory listing in 1942. See: Philadelphia Architects and Buildings, The Athenaeum of Philadelphia (2017); Roth & Clark, American Architecture: A History; The Architecture of McKim, Mead, & White in Photographs, Plans, and Elevations (1990); Treadwell & Durrah, Photographers of the United States of America (2003), p. 13; Christopher Payne, Joseph Lyman Silsbee & Associates in Buffalo, NY (2015); Sharon Park, Lee H. Nelson: Preservation Pioneer, National Center for Preservation Technology and Training, National Park Service (April 19, 2007); Cigliano, Showplace of America: Cleveland's Euclid Avenue, 1850-1910; Ochsner, H.H. Richardson Complete Architectural Works (1982), 87.