Rhode Island Quakers - Thomas and Daniel Howland, et al - 1758-1840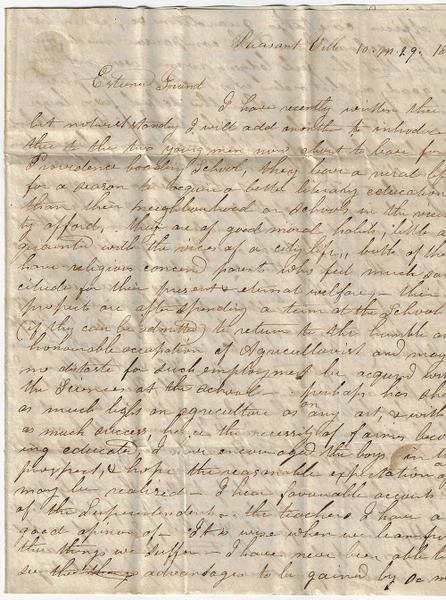 Collection of approximately 20 manuscript letters, invoices, receipts, relating to the two Howland brothers and others in the Rhode Island Quaker community. East Greenwich, R.I. [et al.]: 1758-1840.
"The Howland family of East Greenwich, R.I., figured prominently in New England Quakerism during the late eighteenth and early nineteenth centuries and contributed to the state's public affairs. Brothers Daniel (1754-1834), an approved minister, and Thomas Howland (1764-1845), an educator, were active members of the Society during the tumultuous years between the 1780s and 1840s, caught up in the moral demands for a response to slavery and other social issues and in the divisions wrought by evangelical influences ... Thomas filled a variety of roles for the Monthly Meeting at East Greenwich, and the Quarterly and Yearly Meetings ... [and] spent much of adult life engaged in Friends' affairs. In addition to serving as clerk of the meeting at Greenwich from 1815 to 1818, and on the Yearly Meeting for Sufferings, Thomas was closely allied to the educational efforts of New England Friends led by his friend Moses Brown, serving as a teacher and Superintendent at the Friends Boarding School (later the Moses Brown School) in Providence" (U. Mass Amherst - Howland Family Papers).
1) Invoice apparently for legal services (approx. 12" x 7¼") dated July 1758 to July 1759 from John Andrews to Daniel Howland listing approximately 26 line items with prices, for "fees in case Vaughn vs. Watton ... Sprague vs. Watton ... Miss Barton vs. Watton ... Elisha Wever vs. Watton ... Blank writt (sealed) ... filling [i.e. filing] pleas, 36 decons at July term, 1759 ... excg. 27 bills credit .... fees in case of Maxwell vs. Spaulding," etc. boldly signed D. Howland. The verso contains a list of credits against the 100 pounds due, leaving a balance of 68 pounds, six shillings. This is likely Daniel Howland (1724-1802), the third to be named Daniel in the Howland clan, who later represented Portsmouth in the R.I. General Assembly.
2) Manuscript slip (approx. 2½" x 6¼") dated "July 2, 1761 to Daniel Howland, Esq. This is to clarify that I have received ... 5 yeas on the writt. Robert Taft & Thomas Hickes, Preserved Pierce, sheriff."
3) Legal notes on a bifolium (approx. 13" x 8¼") with "A list of writts Abel Potter" with 11 cases underneath; "Writts returnable July court A.D. 1763 whereon Preserved Pierce Jun. appears to be attorney" with ten cases listed underneath; and "Writts returned July term A.D. 1763, Col. Andrews atto[rney]" with 14 cases listed underneath. Some of the cases listed are Aylsworth vs. Peckham, Reynolds, vs. Spink, Henry Hopkins vs. Preserved Pierce, Silas Casey vs. Saml. Anthony, and many others.
4) One-page A.L.s. (approx. 8½" x 7½") dated East Greenwich, January 3, 1785 beginning: "From our monthly meeting held in Cranston & Greenwich to the Quarterly meeting to be held next at Swansey for Rhode Island. Dear friends, In love we salute you and kindly inform that we received your last epistle which was read in our meeting and was to satisfaction - the queries with answers from both preparative meetings were read in this meeting ... our representatives who are Thomas Aldrich, Sylvester Weeks and Thomas Hazard, Jun. which being what appear needfull all present. Conclude four friends and brethern, Signed in and on behalf of said Meeting, by John Casey, clerk." The ink is rather faded on this letter and portions are impossible to read.
5) Two-page A.L.s. (approx. 12¼" x 7¼") with notes of "Our monthly meeting held at Smithfield ye 31st of ye 3d. 1785. Dear Friends, We salute you in love and inform your last Epistle to us has been read in this meeting to satisfaction, and the particular recommendations therein are noticed and under our care. For a further account of the state of this meeting we refer you to the answers underneath which we send by our representatives who are Rufus Smith, Jonathan Mowry & William Buffam..." This is followed by a page and a half of 13 answers (testimonies) beginning: "A.1 All meetings kept up measurably to reputation, and duly attended by the greater part of friends who mostly observe the hour, mostly clear of indecency except drowsiness. A.2 Love and unity is measurably maintained among us... A.3 Generally careful to avoid the frequent use of Spiritous Liquors and attending public places unnecessarily ... A.13. A degree of care remains among us and judgment placed on the obstinate. Signed ink and on behalf of said meeting by George Arnold, clerk."
6) Two-page A.L.s. (approx. 10¼" x 7¼") from Daniel Page to Thomas Howland, dated Weare [Mass.] 5th Month, 1820. "Although it is but a short time since I last parted with thee, yet then little did I think so long a time would elapse before I should have the pleasure of seeing thee again, but alas I was under the necessity of parting with thee sooner than I expected, and as we are now far separated, I thought I could do no less than to write a few lines to one who has been my kind and agreeable instructor and caretaker ... I return my sincere thanks, and also for thy kind instruction and agreeable council which I hope will be carefully observed. I will inform thee that after I left the institution [the Friends Boarding School in Providence - i.e. Moses Brown School] I arrived home seventh day following and found my friends and relations all well. It was pleasant to meet my friends at Weare, yet I have not forgotten my acquaintance at Providence. I sometimes indulge the flattering idea of visiting you ... I have two more letters to write this afternoon. I therefore must close this soon. Please to give my love to cousin Mathew and Betsey ... I should be pleased to receive a letter from thee." Signed "Daniel Page 2nd." Page was likely a student at the Friends School who had returned to Weare following the academic year or possibly graduation.
7) Lengthy four-page A.L.s. (approx. 9¾" x 8") from Comfort Allen to Thomas Howland dated 14 October, 1821. Chatty letter concerning family and friends. "I now seat myself, dear Thomas, to inform thee of things that have lately passed thinking thou would like to know ... Yesterday we had a very pleasant walk to the shore off East of Governor Fenner in passing through the yards and lots it brought Thomas Dawes and Mary to my recollection ... Yesterday had a letter from Betsey ...Her health is much improved and likewise she thought it was good for her to continue so ... This day William Cooper is to be married and is going [on] a journey be gone two weeks my brother takes his place. I find always something to disturb our peace and pleasure. Each bitter has its sweet, etc. Our school increases some thirty boys forty five girls some pretty children, ones on each side of the house ... My health returned once more to its usual strength and with care I think I can keep it ... to me health once lost is hard to regain ... Amy Batty has been sick and in consequence sent for her mother to spend a few days with her. She had a great deal to say to us ... This was a week ago today ... In the evening they all collected in the girls room..."
8) Three-page A.L.s. (approx. 9" x 8") from Samuel B. Toby to Thomas Howland dated Bristol, January 30, 1825. "I have remembered, with feelings of gratitude, the evening, the many kind tokens of regard, which at different times, thou hast manifested towards me: and I have often wished since I have been at Bristol to write to thee and well remember the promise I made thee ... Often, my friend, I do look back upon the variety of events which occurred during my residence at the school, and a consciousness that it was, in a good degree, my honest intention to discharge my duty in its various relations is at present the source of much peace to my mind ... Remember that I did not intentionally err. Pardon me for these remarks. It is not my wish to secure anything that occured at the school ... In looking at the state of our religious society I feel at times much depressed and am made renewedly sensible of the necessity of looking for strength and ability to the 'fountain where all good comes.' It appears to me (although the state of things is grevious to those who feel interested in the cause of truth) that we have no cause to be discouraged. For as God raised up this society and supported our forefathers in their sore afflictions and presentations, he can and undoubtedly will, in the right time, interpose for the help of his humble, dependant servants ... Lydia Taber, who thou will recollect was a scholar during thy administration at the school, with many others enquired for thee. I did not see Lydia Frye but was informed by her husband that she was not in good health ... During my absence I spent a night with John Warren - he is the same at home as he is abroad - the affectionate man, the humble christian - he appears to be very lively in the ministry..."
9) One-page A.L. (approx. 12¾" x 7½"), unsigned, and possibly a draft or retained copy, likely from Thomas Howland to L. H. Folger on Nantucket, dated East Greenwich, July 17, 1826. "Esteemed friend, I have now recd. the sum of one hundred twenty five dollars & fifty cents of Samuel Brown and have given up his last note which fell due about fifteen months passed. Brown having always been a generous poor man, and but for the assistance of some of his kindred would not probably have been able to purchase a house, was indeed by his solicitations to pay only simple interest. I'm well aware that it may be truly said that I have been generous with another man, but I have done as I believe I should have done had it have been my own..." Howland goes on to relate the difficulties in discharging the mortgage.
10) Lengthy four-page manuscript sermon (approx. 12" x 7½"), possibly written by Daniel Howland (1754-1834), simply dated 1831 and bearing the title "True Regeneration," beginning "Now the Lord's people are a cleane people marvel not but I say unto you must be born a gaine except ye be born a gain ye shall in no ways enter the kingdom of heaven. He that is born again if a new creature rases from deth unto life rased from ded works to living works he is changed both inside and out. The Lord in them and they in the Lord it is said that he who is born of God cant sing and so it is so long as he remains in this state..."
11) One-page manuscript receipt (approx. 3½" x 7½") dated Providence, August 29, 1831. "On demand for value received I promise to pay Daniel Howland, Jr. on order Ten Dollars and sixty-six cents with interest," signed "B. K. Loyd."
12) One-page manuscript expense account (approx. 9½" x 8"), from May 13th, 1833 to July 19th, 1834. "Amounts of money paid out and expended in obtaining pension George Wills for Elizabeth Wills," with 12 line-items underneath, including "2 days attendance on the Courts of Probate," "Horse and waggon to Providence," "Cash pension office," "Paid Nathan Whiteing Esq. for papers," etc. Docketed on the verso: "Silas Wills for obtaining pension - 1834." Unsigned but likely by Thomas Howland.
13) Manuscript invoice (approx. 3¼" x 6½") dated Providence, Sept. 14th, 1835 "Mr. D. Howland to Ann R. Wicks for washing two dozen and ten pieces of cloth at seventy five cents per dozn. is two dollars and twelve cents." Added to this is what remains "due on the last bill - 68 cents. Pay Ann R. Wickes." The D. Howland here is likely the fifth Daniel Howland (1797-1871).
14) One-page manuscript invoice (approx. 8" x 7¾") to Thomas Howland from William P. Place. Itemized invoice with 14 line-items, including repairing shoes, soldering and fixing copper kettle, sharpening plough shears, mending staple yoke, etc.
15) One-page manuscript invoice (approx. 7" x 7¾") to R. G. Howland from Saml. Ford dated Nov. 8, [18]38. Itemized invoice with 4 line-items, for "straps & refig. pants," "Blk. Coat," and two others. R.G. Howland is Richard Greene Howland (1799-1874), son of Daniel. There is a brief inventory of clothes, likely by Richard, on the verso.
16) Manuscript receipt (approx. 3" x 7¾") to Daniel Howland for Stephen Harris for "32 yds. Remnants from shirting - 10 cents = $3.20" dated Warwick, July 23, 1839, signed Peter D. Healy. This would be the fifth Daniel Howland (1797-1871).
17) Three-and-a-half-page A.L.s. to Thomas Howland from A. Pierce dated Pleasant Ville, October 29, 1839. Introducing two young men about to leave for the Providence Boarding School. "They have a rural life for a season to acquire a better library education than their neighborhood or schools in the vicinity afford. They are of good moral habits, little acquainted with the vices of a city life, Both of them have religious concerned parents who feel much solicitude for their present and eternal welfare. Their prospects are after attending a term at the school (if they can be admitted) to return to the humble and honourable occupation of agriculturist ... I have encouraged the boys in their prospects, and hope the resonable expectation of all may be realized ... It is wise when we learn from the things we suffer - I have never been able to see the advantages to be gained by so many offices, caretakers, guardians, &c., when last at the school I heard the comparison made, unasked, that the girls' lodging room was not in so good, or that order was not so well preserved as in former years when the school was larger and care rested on the principle teacher ..." Pierce goes on to talk about the upcoming Quarterly Meeting and who will attend. "I hear our friends J. & D. Otis are zealous ... and they have used their influence [on] others in their belief & acts ... I hear Susan Howland and Phebe Field have since visited families and have been favored to labor with plainness ... It seemed strange to me that when out in that country that they had won over so many to the [word lost to the wax seal]."
18) Two-page A.L.s (approx. 12" x 8") from Benjamin Frye to Thomas Howland, dated Sandwich, [Mass.], August 10, 1839. Benjamin has just returned home from attending meetings but finds both his wife and his married daughter unwell, but the rest of his family is well, and glad for his return. In turn, he asks about Howland's health "as I left thee so poorly ... My mind is so exercised about Baltimore & whether I feel excused from it, am not able now to say but feeble as I am & all other things considered, I can but barely look at it with the tho't of attempting it - Still, I hope to be enabled to endeavor to see & do as the Master may direct - I desire the prayers of my dear friends. My love is affectionately to thy aged sister the widow and her dear daughter Anna..." Frye pens a long postscript on the integral leaf: "As I said in my introduction, favored again to be at home. I may not consistently forget such kind acts & friends as thou art & many others have been where my lot has been cast ... in my very lonely pilgrimage ... As favored as I have been as yet I have no reason to murmur but have cause to say that hitherto the Lord hath helped me, may I still so demean myself before him."
19) One-page manuscript "memoir" (approx. 9¾" x 8") of Thomas Howland, unsigned, undated, but in a contemporary hand, 30 lines, approx. 400 words.
20) One page manuscript invoice to Daniel Howland from Seckhill & Mason, docketed on verso January 16, 1841. For 28 feet of hearthstone, drayage, lathing & plastering, the laying of 2400 bricks, 8 casks of lime, 1,000 lathes, and 8 loads of mortar for a total of $343.04. The Daniel Howland here is likely the fifth Daniel Howland (1797-1871).
21) Three small slips of accounting: Thomas Howland's accounts for Stafford vs. Greene; undated expenses related to S. Well for obtaining pension; and an invoice to Thomas Howland for milk, biscuits, and molasses dated April 2, 1841.
Very readable and only expected wear. Overall in vg cond.