Sentinel Butte - Cowboy Photo Album - 1915-1916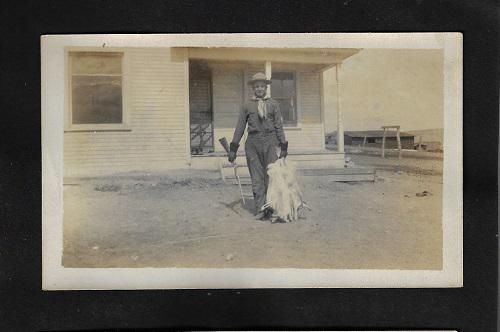 Sentinel Butte, North Dakota photo album, probably compiled by an eastern gentleman by the name of Fred who traveled to Sentinel Butte in 1915. One of the photos states he arrived at the Sentinel Buttes train station on March 9, 1915. There are 81 mounted photos and one post card mounted on 41 pages of the album. Only several of the photos are labeled, but the album for the most part involves the ranching life at the turn of the 19th century in North Dakota.
It is scarce to find North Dakota ranching albums featuring the actual day to day operations of a cattle ranch and in this case also hogs. Many of the photos are of cowboys wearing "woolies", leather cuffs, carrying rifles, shooting a cow, saddles with lariats, the ranch bugler, a cowboy with a Navajo Indian blanket around him holding a rifle, the train station at Sentinel Buttes, feeding a calf, cowboys holding cattle on free range, steam thresher being pulled by horses, a large group of mounted cowboys watching some sort of competitions and several scenes of a quarry. Another photo shows a cowboy, wearing wrist cuffs and caring a gun and holding coyote pelts while still another shows two cowboys unloading grain from a buckboard.
There is a long range photo showing the ranch house, the silo. windmill and barns and another labeled "The First Harvest in Golden Valley N.D. - Sentinel Butte. The post card is is labeled Dedication of St. Joseph's Hospital, Dickenson, N.D., March 31, 1912 and then written over the card is "This is where Fred was when he had Typhoid Fever while out West in 1916". In a photo showing the main street of Sentinel Buttes is the Blazed Trail Store with several cowboys on horses in front of it along with a lone gas pump.
Founded in 1902 along the transcontinental rail line of the Northern Pacific Railway, the town in the 2010 census only had 56 residents. Its name comes from the prominent butte three miles to the south which had been named in honor of two Arikara sentinels killed nearby in 1864 by the Sioux. (Wikepedia)
A rather remarkable cowboy photo album giving a sense of how desperate ranching was and still is in the western part of North Dakota. All photos have very good contrast.