SHERIFF JOHN T. MORRIS – JIM REED – BELLE STARR'S HUSBAND - 1874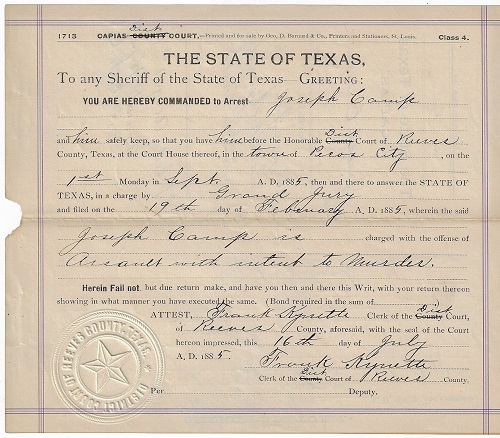 Pecos, Texas 1885 Arrest Warrant, Signed by Sheriff John T. Morris, Who Killed Outlaw Jim Reed, Belle Starr's Husband, in 1874
July 16, 1885 Reeves County, Texas arrest warrant for Joseph Camp, charged with the offense of "Assault with intent to Murder." The warrant is signed by Sherriff John T. Morris (1824 – 1885) who had shot and killed Jim Reed, outlaw, horse thief, Quantrill guerrilla, and first husband of Belle Starr near Paris, Texas on August 6, 1874. Sheriff Morris was killed by Texas Rangers just one month after he signed this warrant. The warrant has the District Court of Reeves County, Texas raised seal in the lower left.
The book "Texas Lawmen, 1835-1899: The Good and the Bad" (2011) by Clifford R. Caldwell and Ron DeLord, contains a report on the death of Sheriff Morris which reads,,
Reeves County Sheriff's Office
Morris, John T.
Born circa 1824 - Died 18 August 1885
By means of background, Morris was born in New York and had served as a U.S. revenue agent and deputy U.S. marshal. In 1880, Morris moved his family to Erath County, where he establish a reputation by killing two men while serving as a deputy sheriff. When Reeves County was organized, he was elected it's first sheriff on 4 November, 1884.
In 1885, Texas Ranger captain James T. Gillespie established the camp for Company E. at Toyah, west off the county seat at Pecos. Captain Gillespie learned that the sheriff drank heavily and was prone to frequent outbursts. Relations between the sheriff and rangers were strained, and the sheriff and been verbally truculent to Captain Gillespie.
On 18 August, 1885, Sheriff Morris left Pecos on the train to Toyah. He was drunk and belligerent, and it was believed he came to town to kill Jep Clayton. Sheriff Morris became upset about the fact that the rangers were watching his movements. He became increasingly more intoxicated and began walking the streets with a cocked six-shooter.
Citizens complained to Captain Gillespie, who ordered Sergeant L. F. Cartwright to make an arrest and disarm the sheriff - without hurting him, if possible. Sergeant Cartwright was accompanied by rangers William S. Hughes, Frank W. DeJarnette and Thomas P. Nigh. They found the considerably inebriated sheriff at the Favorite Saloon, where Cartwright ordered him to give up his pistol and surrender. Morris fired at Cartwright but missed. He then fired a second shot at Nigh. The rangers returned fire, hitting the sheriff five times in the chest. The proprietor of the saloon was shot in both legs during the exchange. Nigh was killed instantly, but Morris was taken to the Field Hospital and died within minutes.
Morris was survived by his wife June, and daughter, Nora.
Measures approximately 7 x 8 3/8 inches. A horizontal cross-fold through center. Small paper loss at left center edge as shown. Half inch seam split at far right edge of fold. Overall in vg cond.