Stark Mills Work Regulations - Manchester, New Hampshire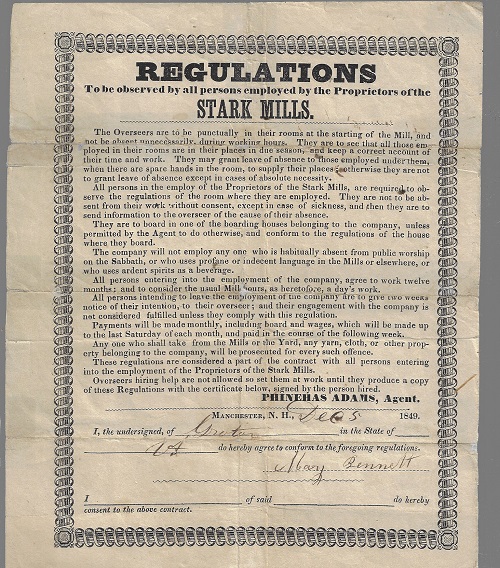 REGULATIONS TO BE OBSERVED BY ALL PERSONS EMPLOYED BY THE PROPRIETOR'S OF THE STARK MILLS...PHINEHAS ADAMS, AGENT.
Manchester, New Hampshire: 1849.

Broadside. 8vo. 8 ½ x 7 inches. Text enclosed within a decorative typographical border. Folded with previous tape repairs very neatly done to folds, small hole at center fold. Dated December 5, 1849 and signed Mary Bennet.

The broadside records the rules which every person must sign before employment commences and includes details about hours of work and requirements about absenteeism, alcohol use, and use of profane language. Each mill worker would live in the company boarding houses unless excused by the Overseer. The broadside contains information about monthly wages, but no specific information is supplied. It is also emphatic that theft of yarn, cloth, or other properties of the company would be prosecuted "for every such offence."
"The Overseers....may grant leave of absence to those employed under them, when there are spare hands in the room to supply their places; otherwise the are not to grant leave of absence except in cases of absolute necessity."
"The company will not employ any one who is habitually absent from public worship on the Sabbath, or who uses profane or indecent language in the Mills or elsewhere, or who uses ardent spirits as a beverage."
"Overseers hiring help are not allowed to set them at work until they produce a copy of these Regulations with the certificate below, signed by the person hired."
Stark Mills was an affiliate of Amoskeag Manufacturing Company, which was to become the largest and most important textile manufacturer during the 19th century. Stark Mills was at the center of the development of Manchester as a leading city in New Hampshire and was resident to Building Number 1, the centerpiece at the time, of a complex of plants that made up Manchester's manufacturing zone. The zone included housing, schools and company stores where employees lived and raised their families. The goal of the city fathers was to build a Utopian city where employees could live and work in a secure environment. This type of benevolent management included employee access to schools, churches, medical care, parks, and fire stations and libraries. One wonders how this Utopian scheme played out for Mary Bennett, mill worker for Stark Mills Manchester.