Territory of Montana - Mining Receipt - Jany 10, 1865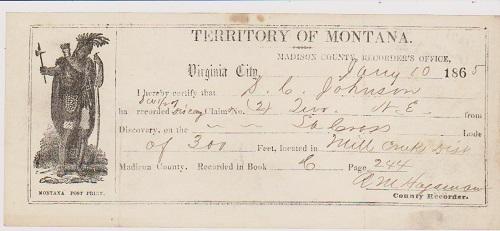 Territory of Montana mining receipt completed and recorded in the Madison County Recorder's Office. Partially printed and manuscript. Virginia City, Mt. Montana Post Print, 1864. 7½ x 3¼ inches. Slight wear. Very good.
A very early example of Montana printing and a record of early mining in the region. According to McMurtrie, the first printing press in Montana is believed to be that brought by Francis M. Thompson to Bannack in the spring of 1863. This press was followed a year later by the arrival at Virginia City of "more consequential printing equipment." This Virginia City press was run by Marion M. Manner, and printed the MONTANA POST and the present mining receipts. This same press produced the first printed book in Montana, the mining LAWS OF FAIRWEATHER DISTRICT, in 1864. The present printed receipt is signed in manuscript by R.W. Hagaman, Recorder of Madison County, and dated Jany 10, 1865. An engraved image of an Indian is in the left margin, and the type is fairly unadorned. McMURTRIE (MONTANA), p.10.