The Barker Family - Quakers - Silhouettes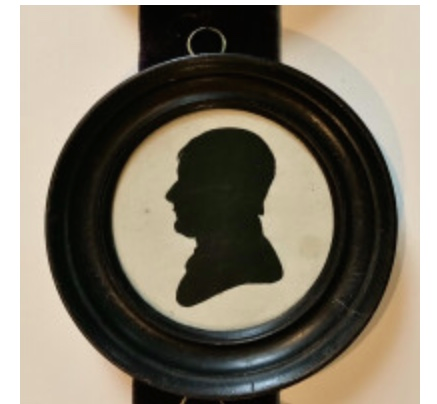 QUAKERS - THE BARKER FAMILY – SILHOUETTES
(Quakers) Four hollow cut silhouettes attributed to Peale of the Barker family, Pennsylvania Quakers that settled in Burlington, New Jersey. These silhouettes were purchased privately about 30 years ago from a home in Thomaston, Maine and recently I purchased them from the present owner who has had them for those intervening 30 years. The verbal information which was passed with the silhouettes was that the Barker family was descended from Philip Drinker, born in Exeter, England in 1596. His descendants emigrated to Massachusetts Bay in 1630.
The silhouettes are attributed to the work of Charles Wilson Peale and display the common touch of a strand of hair at the forehead. Two of the images have the word "museum" blind stamped beneath their bust and are housed in period round wooden frames with original black paint. Old paperboard backs have pencil names written on them which are difficult to read but are as follows: Elizabeth Drinker Barker 4 10(?) 1819; man facing left has an indecipherable first name followed by Franklin; the woman in bonnet is Grandmother Abigail Drinker Barker 2 4(?) 1795 and man facing right is Peter Barker. New replacement nails hold the backs in place. Small brass loops are held in place with cotter pin style hoops. One brass loop is missing and has been replaced with ordinary twisted wire. They were attached to a velvet strip of fabric when purchased 30 years ago for purposes of display.
In researching the names I found that Abigail Drinker Barker was born either on June 13, 1773 or 1778, the later of which is probably a typo. Born in Philadelphia, she was married to Peter Barker also of Philadelphia on February 4, 1795. Later that year on November 28, they had a daughter they named Elizabeth Drinker Barker. Peter Barker was a member of the firm of Barker and Annesly, of Walnut Street Wharf, Philadelphia and after 1812 of Thomas P. Cope. Thomas P. Cope would at this time own the largest mercantile business in America. Elizabeth, their daughter married, on June 10th 1819, Samuel R. Gummere who was for many years principal of a boarding school for girls on the river bank at Burlington, N.J., afterwards St. Mary's Hall. He published several educational works and in 1840 became a clerk of the Chancery Court of New Jersey. He died in 1866 at Burlington, N.J. Elizabeth had died in Burlington, 26 years previously. (Source: The Drinker Family In America To and Including The Eighth Generation by Henry Biddle)
Now the issue remains as to who is the person, silhouette, identified as Franklin. The family from whom the silhouettes were purchased 30 years ago claimed that there was a connection between Benjamin Franklin and his illegitimate son William and the Franklin of this silhouette. I have found nothing to disclaim or verify this.

Condition: there are occasional nicks, scuffs and thin but tight wood shrinkage cracks in the frames. The silhouette of the man facing to the right has a small edge tear extending from the top of his head to the edge. Overall in vg cond.