The Base Ball Game Has Been Introduced - Mississippi - 1866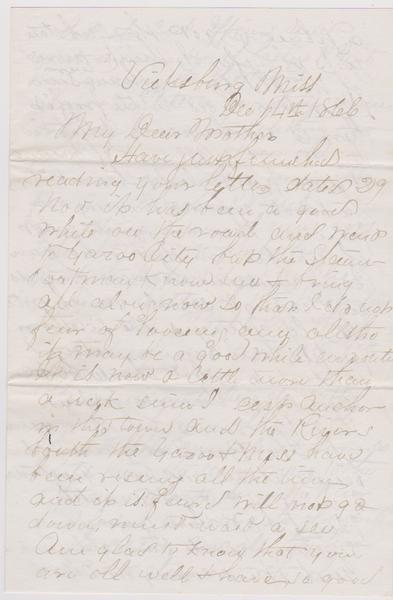 "THE BASE BALL GAME HAS BEEN INTRODUCED HERE YESTERDAY" – MISSISSIPPI - 1866
An interesting 4 page letter from Sid Nesmith (1833-1877) to his mother Mrs. Geo. W. Nesmith (1799-1885) while he was serving as Special Agent of the Treasury Department in Mississippi. Of particular importance is this early written reference to the game of Base Ball. Written in ink, very legible and retains the stamped transmittal envelope. The letter is:
Transmittal envelope:
Stamped Vicksburgh, Miss. Dec. 14, 1866
To: Mrs. Geo. W. Nesmith Franklin, N.H.
Letter: (Spelling and punctuation uncorrected)
My Dear Mother,
Have just finished reading your letter dated 29 Nov. it has been a good while on the road and went to Yazoo City but the Steamboat man Know me and bring all along now so than I do not fear of loosing any although it may be a good while ____ it now a little more than a week since I cast anchor in this town and the Rivers both the Yazoo and Miss have been rising all the time and it is feared will not go down. Must wait and see. Am glad to know that you are all well thar and a good place to get the sub stantials of life. I think more of the Old farm than ever since I see how how little profit ther is in raising Cotton in this Country All sorts of business is dull particularly Steam boating the Boots are not paying expenses. There are quite a lot of Yankees in this who have come in since the war. They do not mingle socially much with old citizens the Southern people have been accustomed to dictate what should be the Kind now they are jealous that the reins must be given up. The Base Ball game has been introduced here Yesterday I went out to see an watched played but there were no Southern people than all Yankees. Gen'l Wood Comdy the Depart a lot of Sub Officers and quite a number of ladies and Gentlemen were among the spectators.
One can tell a northern man or lady from the Southern people just as readily as an old seaman can tell a man of war from a Merchant Vessel. Every thing in way of new gets to be old before it reaches here and the papers don't publish a little of the procrasting of Congress People here think the Radicals are trying to get up another war.
The community here do Suffer very much from all Sorts of Thiefs Robbers Swindlers and ______ tell them the Scum rises to the top and floats down the River and lodges among to old drift in the Eddies And all they have to do is to clean out the old drifts and leave the surface clean and smooth so the _____ mill Sweep it out the sea The town is so full of ___- holes that every loafer Stops to take a drink and see what he can Steal.
It is now raining very hard. Everybody is talking about Christmas and what they are going to do and it is a big thing to have Christmas in this Country.
Give my regards to Cousin Mary and all your affectionate Son.
Sid
"Arthur S(idney) Nesmit, the second and only surviving son of Hon. And Mrs George W. Nesmith, was born in Franklin, N.H., March 30, 1833. He early developed a good native talent which was cultivated in the public schools, especially under the tuition of Mr. B.M. Tayler who was reputed as a superior instructor. He also enjoyed the advantages of the Pembroke Academy and other institutions of learning. When the War of the Rebellion broke out, by the solicitation of his friend Col. M.W. Tappan, he resigned his position as Station Agent at Penacook and enlisted in the First Regiment N.H. Volunteers, and served through the three months' campaign.
Says his aged and honored father – "He was my only son and I gave my consent to his new army life with some reluctance, and not until his mother and sister had given theirs", facts that illustrate at once the father's sacrifice of the support of his declining years, the patriotism of our New Hampshire women, and the filial submission of a son in his majority.
After a short interval Arthur accepted the position of Quartermaster of the Third Regiment, and was ordered to the South Carolina coast where he contracted malaria and was obliged, on Sept. 3, 1862, to return home. His complaints assumed a chronic form, from the effects of which he never fully recovered. He resigned his position and was honorably discharged. In the Summer of 1863 he so far regained his health that he applied for and received the appointment of Assistant Brigade Quartermaster with the rank of Captain, and was stationed at Washington, D.C., where he performed duty during the war.
In the Summer of 1866 Capt. Nesmith was appointed a special agent of the Treasury Department, through the influence of Hon. William E. Chandler, then Assistant Secretary of the Treasury, and was sent to superintend the contractors who had undertaken to raise the gunboats sunk by the enemy in the Yazoo river and other waters around Vicksburg, while that city was besieged by Gen Grant. In 1875-6 he served the U.S. Government as special agent investigating the claims of Union men in West Virginia, Kentucky and Tennessee.
In civil life Capt. Nesmith served his town as one of the Selectmen, and was her Representative in General Court in the years 1868 and 1869, in the later of which he was Chairman of the Committee on State Prison. Capt. Nesmith married Miss May E. Moulder of Washington, D.C., by whom he had four children, two of whom – daughters – survive him. Captain Nesmith died at his father's house in Franklin, Aug. 18, 1877, aged 44 years."
Taken from THE FIRST REGIMENT NEW HAMPSHIRE VOLUNTEERS IN THE GREAT REBELLION by Stephen G. Abbott. Also Google: Judge George Washington Nesmith, Sid's father.
Letter and transmittal envelope in very good condition.