The House of Marlboro - S.M. Howe, Esq. - Allen and Kenway Architects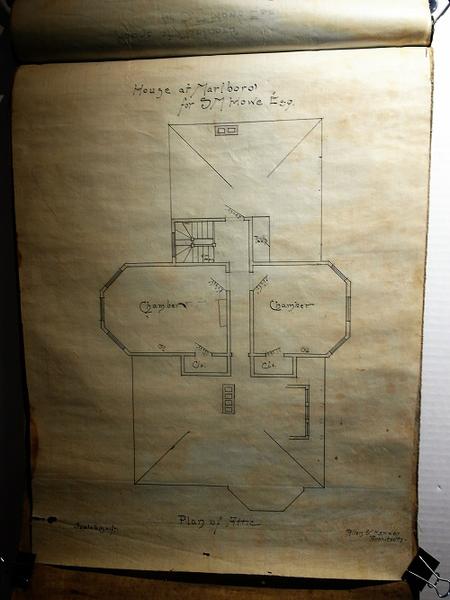 A complete set of 8 architectural drawings for the House at Marlboro for S.M. Howe, Esq., drawn by the Boston firm of Allen and Kenway. Frances Richmond Allen worked with the Kenway firm in Boston between 1878 and 1890. From 1896 to 1898 he was with the firm of Allen and Vance when that firm were the architects for the Lathrop House (1901) and Davison House (1902) at Vassar College. The firm was known for its Gothic Revival design work. In total Allen was the architect for 8 buildings for Williams College and 12 for Vassar plus homes including "Brownleigh Hall" which was the residence of James Wentworth Brown in Needham, MA; the Quincy-Wardner House (1885) in Dorchester, MA and the House at Marboro for S.M. Howe, Esq. There is a possibility, although I cannot prove it at this time, that this set of house plans may have been for a relative of Lois Lilley Howe (1864-1964) who worked for Allen and Kenway prior to 1894 when she left to open her own architectural firm.
The 8 elevation plans complete with measurements, room designations, window sizes, etc. are each on a type of oil parchment and rolled in a black canvas for protection. The scale is 1/4" to 1 foot with the page sizes being 19 1/2 x 15 inches each. The outside walls and fire places are back colored as drawn. There is some wear with a small border hole in the front elevation and another border hole in the attic elevation. As one would expect there is some discoloration, but overall the elevations are very vibrant and in very good condition.
Sources: Lewis, Arnold: American Country Houses of the Guilded Age. (Sheldon's "Artistic Country Seats"). Brandt, Beverly K.: The Craftsman and the Critic. Defining Usefulness and Beauty in Arts and Crafts-Era Boston.
Elevations of S. M.Howe, Esq. House at Marlboro. A "Cottage Style Home" - 1880-90.