The Omnibus College - America's College on Wheels - 1931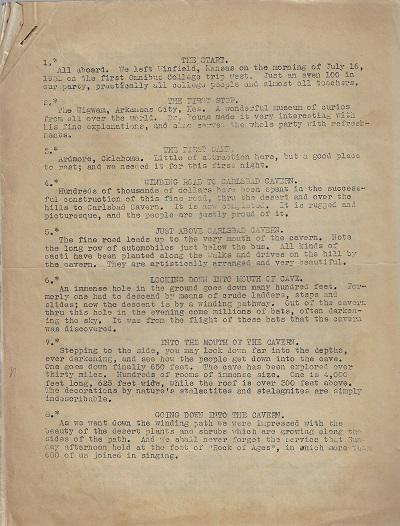 Omnibus College was an adjunct to The University of Kansas at Wichita, Kansas. It was a "summer school on wheels with all transportation being in buses and automobiles, housing was in tents and participants were fed from cafeterias on bus chassis. Through the 30's, while the program existed, forty-two states were covered, as well as parts of Canada and Mexico. History, geography, biology, sociology and other subjects were taught with illustrative matter at first hand. So popular was this type of education among public school teachers, the registration in 1934 reached 1200."
Judging by the tour listing of individuals and the address on an included post card, the lady who owned and created this photo album was Mercedes Bryant who at the time worked on the Shawnee Indian Agency, Shawnee, Oklahoma. She was born in 1910, was married to Lawrence LaCharity sometime in the mid 1930's, died in 2001 in Virginia and was buried in Gibson City, Illinois. Others on the tour were from Pawnee City, Nebr.; Fillmore, Mo.; Minot, N.Dak.; Howe, Tex.; Ravins, S. Dak.; Dines, Wyo.; Joplin, Mo.; Des Moines, Ia.; Chattanooga, Tenn., etc. There is a large photo (10 x 8 inches) of what most likely is this group as they posed outside of the National Orange Show pavilion at San Bernardino, Calif.
Mercedes Bryant's 1931 photo album consist of 4 sections containing over 300 photographs, 77 postcards and some related tourist ephemera, as well as a 14 page 8 ½" x 11" typewritten journal concerning the photographs she took on the tour. In total this album gives an informative glimpse into the America of 1931 and 1932.
Beginning with section 2 there are 171 photos with diary descriptions and also a typewritten itinerary of 147 entries relating to the trip which began on July 16. 1931 and was the 1st Omnibus College trip west. The group of 83 Pioneers 1931 and 16 accompanying personnel left Winfield, Kansas with their first stop being Wigwam, Arkansas City, Ks. The first camp was at Ardmore, Okla, then to Carlsbad Cavern:
"Into the Mouth of the Cavern. Stopping to the side you may look down far into the depths, ever darkening and see how the people get down into the cave. Down 650 feet. Cave has been explored over 30 miles. Hundreds of rooms of immense size. One is 4000 ft. long, 625 ft. wide where the roof is over 300 ft above. The decorations by nature's stalactites and stalagmites are simply indescribable."
On to Monroeville, NM, the Petrified Forest at Holbrook, NM and then to Taos, NM:
"The Old and New Combined – Taos, N.M. The old adobe walls still stand. The big wooden doors have been added with the heavy panels. Note the long artistic hinges, and the window glass where there were only holes in the walls."
"Old Mission Church near Santa Fe. Built 200 years ago and still in use. Queer, quaint old bells and a peculiar superstition that every twenty years the spirit of the patron priest comes back, lifting up the floor."
From here the trip proceeded to the Cliff Dwellers: "Cliff Dwellers, N.M. Far across the desert he welcomes us, inviting us to see his beloved house of the ancient cliff Dwellers:
"Two for 25 cents" since there were so many ladies. Full Blood Indian. Proud and pompous. Well educated in Haskell, at Carlisle, PA and other Indian Schools"
Then to Flagstaff and the Grand Canyon:
"The first sight of Grand Canyon Ariz. Cannot be described. It can not be told; can only be felt. This is only one entrance to one arm of the Canyon."
From their to the Petrified Forest in Arizona, then Famous San Bernadino drive, San Diego and a voyage on the "Virginia" to the navel submarine fleet at San Diego:
" Submarines V-1 and N-2, U.S. Navy. These are the pride of the U.S. Navy. N-1 was completed at a cost of $8,000,000, and it takes about the same amount to operate it annually. It is the largest and most complete submarine afloat in the world, Note the port holes in the turret whence comes the destructive torpedoes. N-2 is a twin to N-1, tho a bit smaller."
Then to Monterrey, Hollywood, San Francisco and the Casino at Catalina:
"A marvelous creation. Seats 2500 on main floor and accommodates 2000 couples nightly dancing in ballroom on 2nd floor. You must see it inside to appreciate."
Off to Los Angeles, Winchester and the Monterey House, Yosemite, Dalles, Oregon, Crater Lake, Columbia River Highway and over to Millins Pass in Idaho. Then Lake Couer D'Alene, Idaho and on to Virginia City, MT:
"At Virginia City, Mont. On the ____ Highway they proudly point out to you this house where they boast that five men were hung. Once in the gold mad days the House of Vengeance, 40,000 people lived there where not a bare 300 remain. Over $5,000,000 taken from this gulch."
Yellowstone National Park was next:
"Just about once an hour the eruptions occurring day and night throughout the year, throw water to a height of 150 to 170 ft. By night or by day its beauty and grandeur are unsurpassed. Just ten minutes after we arrived on the ground Old Faithful performed and here I caught her in the act. This picture shows the successive steps of the beginning of eruption. There have been four puffs of steam so far."
Through the Big Horn Mountains, the misty Moon Camp, Devils Watch Tower and then:
"Extracting the stuck Baggage Bus. The workmen were good sports. They came marveling at our big bus. Nothing like it ever seen there before. They had to jack up the chutes higher so we could get thru, but laughingly did it."
Finally, before returning home to Winfield, Kansas there was yet another blowout:
"Blowout on the Last Trek Home, It is in Kansas, Babe and Mart started home Thursday from Devil's Tower with five girls who must get home to begin school Monday. It is now Friday, a bit after noon, and in 50 hours they have driven almost 1000 miles. When the tire says "bang" all work but "Dad" and he works the camera. Two of the school ma'ams have been dropped in S. Dakota and Neb. At their house."
Section 3 is a series of 77 post cards relating to New Mexico, Arizona and California.
Section 4 are a series of 40 photos taken by Mercedes Bryant in January 1932, February 22, 1932 and at least through March of 1932. All are captioned beginning with a photo of the observation tower at Hot Springs National Park, Arkansas. Then on to Harrah, Okla., the Indian Sanatorium at Shawnee, Okla., Ardmore, Okla and the Arbuckle Mts., Sulphur, Okla., Red River boundary between Oklahoma and Texas, Dallas, Texas, Shawnee, Okla., Lawton, Okla., McCloud, Okla., and Harrah, Okla.
Now for section 1. It is my conjecture that the 144 photos in this section may have been taken by the designated trip photographer who is referred to as "Dad". The captions seem to have been cut from a trip itinerary and glued under each photo. Some of the photos taken are similar to those in section #2. Many however are different photos of many other places and locations which were visited during the trip. For instance, there is a photo of the White House of Miller Brothers' 101 Ranch; the grave of Kit Carson; a Navajo ceremonial house called a hogan at Gallup, New Mexico, El Capitan; Mt. Hood Ranch which is one of the most successful silver fox farms on the Columbia River Highway; Teton National Park and Jackson Hole country of Wyoming; Chief Weazel Bear and his tribe in camp outside of Buffalo, Wyoming; Taos Pueblo plus more.
All photographs are identified and have very good contrast. Bound in THE OMNIBUS COLLEGE – AMERICA'S COLLEGE ON WHEELS photo album. Overall in vg cond.