Topographic Map of Portage Lake Mining District - 1888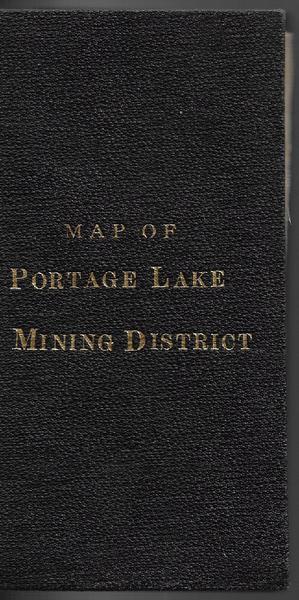 TOPOGRAPHIC MAP OF PORTAGE LAKE MINING DISTRICT - 1888 EMERSON, L.G. Topographic Map of Portage Lake Mining District. Handcock, MI: 1888. 91.8 x 72.4 cm. Colored. Linen-backed in original black cloth cover with title in gilt on front cover. Very good copy with a few minor tears.
First edition. A very detailed map of the Portage Lake Mining District with literal references denoting ownership of land of twenty-one mines. Many of the mines are owned by individuals, others by companies such as: Atlantic Mining Co., St. Mary's Canal Mineral Land Co., Lake Superior Ship Canal & Iron Co., Tamarack Mining Co., etc. There are fifteen townships located with rivers, ponds, and lakes. The mining district borders Lake Superior and Keweenaw Bay. Traverse Island and Point noted. Not in Phillips, Eberstadt, or Streeter Sale.