Burgoyne - Map of Braemus Heights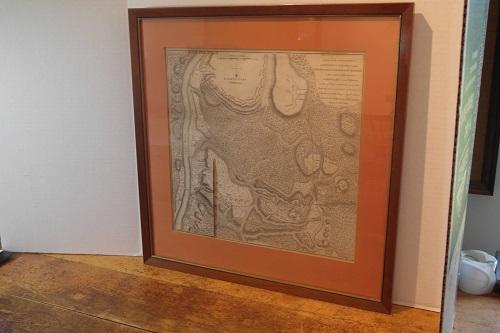 (Map)
PLAN OF THE ENCAMPMENT AND POSITION OF THE ARMY UNDER HIS EXCELLY.LT. GENERAL BURGOYNE AT BRAEMUS HEIGHTS ON HUDSON'S RIVER NEAR STILLWATER, on the 29th Septr. With the Position of the Detachment and C. in the Action of the 7th of Octr. & the Position of the Army on the 8th Octr. 1777. Drawn by W.C. Wilkinson Lt. 62d. Regt. afst. Engr. Engraved by Wm. Faden.
This map taken from Burgoyne's book A STATE OF THE EXPEDITION FROM CANADA, AS LAID BEFORE THE HOUSE OF COMMONS. The partially colored engraved map with a hinged over slip, depicts the battle positions and troop movements of the opposing armies. Drawn by W.C. Wilkinson and Engraved by Wm. Faden. This Braemus Heights map "depicts, among other particulars, the "Plan of the Encampment and Position of the Army under his Excelly. Lt. General Burgoyne at Braemus Heights Sept. 20 to Oct. 7 with an overlay tipped to the margin indicating the position of Burgoyne's Army on Oct. 8."
This detailed and uncommon battle plan shows the placement of British and American forces during the Battle of Saratoga, which as indicated took place during the two months of September and October 1777. The two battles were fought nineteen days apart and was a key victory for the Americans over the British.
Streeter states of the book and map "Burgoyne defends his actions in the campaign that led to the disaster at Saratoga. He proves in this work that his army was half the size he had demanded, and was badly provided for. The work is one of the best sources on the campaign." Howes B968. Sabin 9255. ESTC W34205. Streeter II:794. Stevens 27. Staton and Tremaine 503.
Faden's maps of the American Revolution are particularly well presented because they were based on manuscript maps supplied to him from the war zone.
Two minor hinge attachment marks at top of map. Overall in vg cond. Framed.