Canadian Horse Racing Photos - August 1932 - September 1933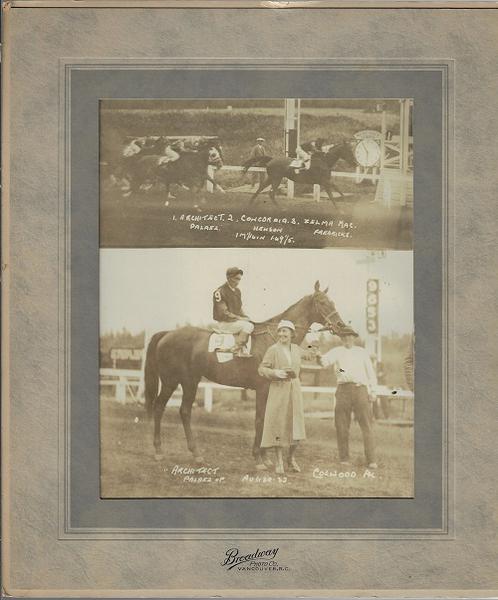 (CANADA -- HORSE RACING PHOTOS).[D'arcy-Hodsoll, Gregory Edwin & Bigeloe, Elva J. (Photographers). A fascinating archive of fifteen original silver gelatin studio photos, of which three are duplicates, recording the finishes, and winners, for horse races in British Columbia in the 1930s at Landsdowne Park, Willows Park, Hastings Park, Colwood Park, and Brighouse Park, all with identifying text within the negatives at lower part of image. Vancouver, BC: PhotoCraft, August 9, 1932-Sept. 6, 1933.
Fifteen original studio photos, sized 8 x 10, mounted in embossed & decorated studio mats sized 12 x 14 in. (3 duplicate images), images all have fairly strong contrast, very little overexposure, and all are split images with photo-finishes printed in same image as winner in the winner's circle announcing the jockey, and date of race, and place (minor edgewear to embossed mats), an excellent group of images.
This archive of scarce original photographs of Canadian horse races provides excellent visual documentation of the importance of racing in British Columbia in the depths of the Great Depression. This grouping includes such winning horses as Eagles Home ridden by Oaksee; Altavar ridden by Thorogood; Willbank ridden by Thorogood; Camp Ground ridden by Hernandez, owned by L. Torry, with Jackie Russell as trainer; Cherokee Boy ridden by Moncrief, owned by H.A. Torey, and T. Fenton as trainer; along with a series showing the numerous wins of "Architect" ridden by Oaksee, Palaez, and Thorogood. Architect was historically the most successful and recognizable of the Canadian racing horses owned by H.A. Torey, and whose career stretched from 1926 through 1936, placing first 35 times out of 241 starts, with lifetime earnings of $ 21,515. A number of his 1933 ten first place race finishes are depicted in these photos, which was that Thoroughbred's greatest year. All of the photos include excellent action shot images of the end of the races, with most of the winning margins extending from one to five lengths, but one very close to a photo-finish. The Lansdowne Park race track was originally built in Richmond and opened in 1924 and closed in 1960, now the site of the Lansdowne shopping centre. The Willows Park racetrack was Victoria's main horse-racing venue through the 1930s, and was situated about a half-mile inland from the Willows Beach area in Oak Bay. Hastings recorded the first thoroughbred race staged in Vancouver, BC in 1889, and was originally an infield of charred stumps and a barn area. Hastings Racecourse is the the oldest historic park still operating in British Columbia, whose senior steward is Wayne Russell, son of famed trainer Jackie Russell (d. 1969). The Colwood Park horse racing tracks included steeple and flat course race tracks, and were located on the Wale property near Colwood Corners, formerly owned by the Hudson's Bay Company, and now the site of the Juan de Fuca Recreation Centre. Brighouse Park was originally opened as Richmond's Minoru Park and opened in 1909. D'Arcy-Hodsoll operated as the D'arcy Studio from 1928-1930, and then as PhotoCraft in 1933, out of Burnaby. See: Denise Ryan, Hastings Races On, The Glory Days are Gone, but Vancouver's Horse Racing Centre is Still Home, Vancouver Sun, April 26, 2014; Hastings Racecource Set to Celebrate 125th Anniversary of Racing (2014); David Mattison, Camera Workers: The British Columbia Photographic Directory, 1858-1950, Volume 2 (1901-1950); Equibase, Handicapper's Store, Horses.