Color Inspirations - California Originals By Pabco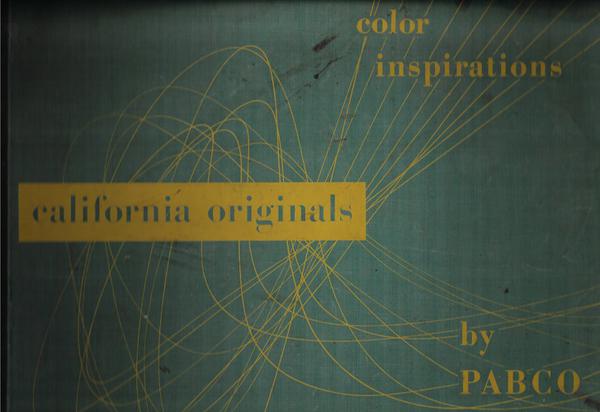 COLOR INSPIRATIONS: CALIFORNIA ORIGINALS BY PABCO. (COLOR THE ACCENT TO GRACIOUS LIVING!). San Francisco. Pabco Products. Nd. c. 1950. Oblong atlas folio, unpaginated (42 leaves), First leaf on Pabco Products letterhead, the remainder of the volume color lithographs, color tinted text leaves placed in a 32 ring binder. Atomic age inspired cover art, expected wear with 1 leaf having a slightly chipped outside edge. Overall in vg cond.

1st edition of a very scarce mid-century modern California design book for Pabco Products which were touting their manufactured lines of paint, linoleum, roofing, building materials, insulation and asbestos-cement products. These large color photo design illustrations present an array of choices for the 1950's designer, architect, and homeowner, and this counter book was intended to demonstrate the importance of wall and ceiling colors in decorating, and for selling additional products. The interiors feature American Colonial Revival, bedrooms with a mid-century modern flair, and kitchens in remarkable shades of blue, pink and yellow with red, green and gray linoleum flooring. The exterior shots illustrate a nicely designed split-level ranch, stylish furniture, and Pabco paint colors and shingles in an assortment of colors, Pabco paints, colors and products were originated by The Paraffin Companies, inc of of San Francisco during the opening decades of the 20th century following the 1906 earthquake and fire. No copies located in Worldcat.