Extremely Rare New Mexico Territory Map - 1908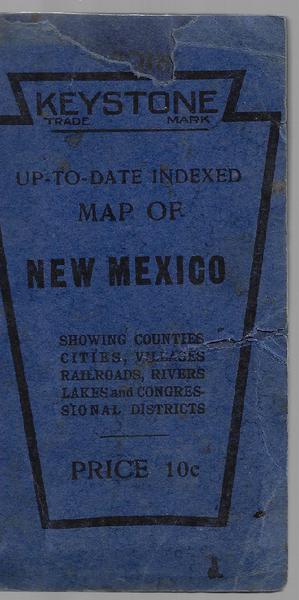 EXTREMELY RARE 1908 MAP OF NEW MEXICO TERRITORY
UP-TO-DATE MAP OF NEW MEXICO. SHOWING COUNTIES, CITIES, VILLAGES, RAILROADS, RIVERS, LAKES AND CONGRESSIONAL DISTRICTS. Folding pocket map when opened 18 7/8 x 16 inches to neat-line. Overall sheet is 20 x 17 inches. Map titled MAP OF NEW MEXICO WITH POPULATION AND LOCATION OF PRINCIPAL TOWNS AND CITIES, ACCORDING TO LATEST RELIABLE STATISTICS. 1908. Printed by the Kenyon Printing and Mfg. Co. Map Makers – Des Moines, Iowa. Map verso titled Location and Population of all Cities and Towns in New Mexico According to the U.S. Census and Other Reliable Sources.
Considered to be extremely rare, this pocket map shows the entire New Mexico Territory, four years before statehood surrounded by aspects of the states of Texas, Oklahoma, Colorado and the Territory of Arizona. The map gives a very good visual of the railroads and rivers that crossed through New Mexico Territory. Plus, the National Forests are outlined in red, and include Guadalupe, Gila, San Mateo, Mt. Taylor, Pecos and Taoes, etc. Another high-lite of the map is that Native American reservations are indicated by black dashed borders and include those of Zuni, Mescalero Apache, Jicarilla, sections of the Navajo and Southern Ute reservations.
Several minor repairs, and a minor eastern border stain, overall in vg cond. Quite rare with only one other copy being located in the Museum of New Mexico Library.