Gold Mining in California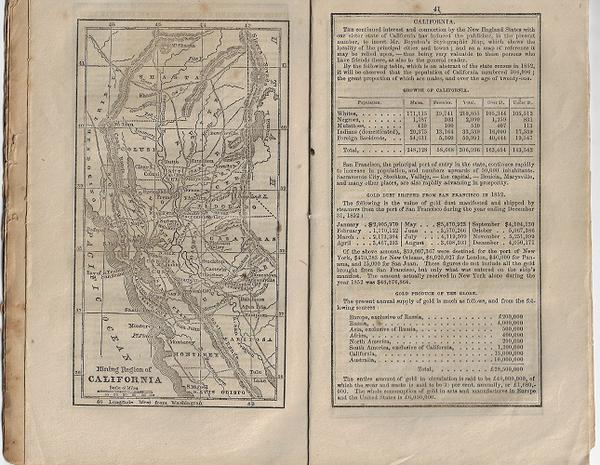 GOLD MINING IN CALIFORNIA
(California Gold Mining Map) Leavitt, Dudley. LEAVITT'S FARMER'S ALMANACK, AND MISCELLANEOUS YEAR BOOK, FOR THE YEAR OF OUR LORD 1854: BEING THE SECOND AFTER BISSEXTILE, OR LEAP YEAR, AND, UNTIL JULY THE FOURTH, THE SEVENTY-EIGHTH OF AMERICAN INDEPENDENCE. CALCULATED, AS TO THE LATITUDE AND LONGITUDE, SO AS TO ANSWER FOR ALL THE NEW ENGLAND STATES. CONTAINING A NEW MAP OF CALIFORNIA. Worcester: E. Livermore & CO. Boston: E. Livermore. 1854.
The map titled MINING REGION OF CALIFORNIA remains bound in the 1854 edition of Dudley Leavitt's Farmer's Almanack. The map depicts the area from Mt. Shasta in the north to San Luis Obispo in the south. On the page facing the map is a description of a rapidly growing California, including population statistics as well as the value of gold dust shipped from San Francisco in 1852 and Gold Produce of the Globe. The map and description provide a wonderful example of the type of good publicity that drew many an Easterner to the Golden State in the early 1850s.
The same map appeared in Leavitt's Farmer's Almanack for 1853; it is identified as item 212 in Wheat's Maps of the California Gold Region, 1848-1857. This map appearing in the 1854 Leavitt's Almanack is not cited by Wheat. The description of California appearing on the page opposite the map differs significantly between the 1853 and 1854 issues. In the 1853 issue, the emphasis is on the geography of the state and its leading cities. In this 1854 issue, the focus is on the amount of gold produced and how that compares to the rest of the world.
Reference: Wheat, Maps of the California Gold Region, 1848-1857: see 212 for the map appearing in the 1853 almanac.
Page size: 7 ¾ x 5." Map dimensions: 6 ¼ x 3 3/8.". String-tied, printed self-wrapper. Minor spotting, soiling, chipping, edge-wear and dog-earring. Map is very good.