Inauguration of Train Service to Milliken, Colorado - 1910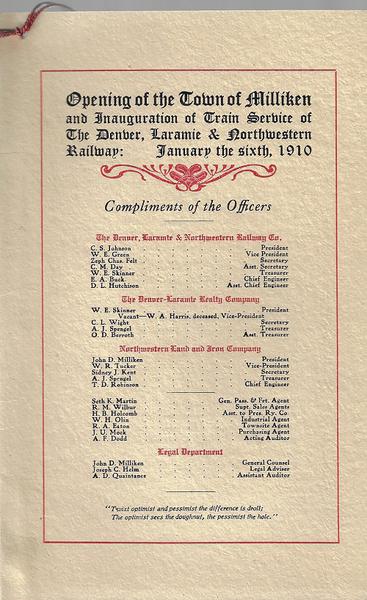 OPENING OF THE TOWN OF MILLIKEN AND INAUGURATION OF TRAIN SERVICE OF THE DENVER, LARAMIE AND NORTHWESTERN RAILWAY. JANUARY THE SIXTH, 1910. 4 pgs. Single sheet of deckle edge stock to form two leaves. Very minor small damp-stain not affecting text. Issued to celebrate the arriving of the railroad in Milliken, Weld County, Colorado. The front list the officers of The Denver, Laramie and Northwestern Railway Co.; The Denver-Laramie Reality Company; The Northwestern Land and Iron Company and the Legal Department. John Milliken, for whom the town is named appears as president of the Northwestern Land and Iron Company and as General Counsel on the Legal Department. The second page carries a poem titled THE MAN WHO WINS, pg. three is a poem of invigoration and the back page is a caricature of a grinning resident. Vg cond.
Milliken was incorporated in October of 1910. However much of the town was destroyed by fire in 1910 and in 1917 the Denver, Laramie and Northwestern Railroad was abandoned. In the 2010 census Milliken was a town of about 5600 people.