J.E. Dougherty - Montana Territory Archive - 1880-1889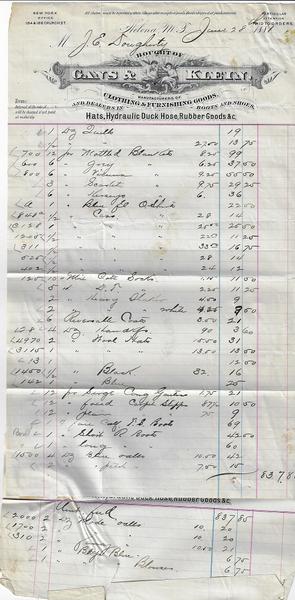 (Montana Territory) Dougherty, J.E. A MONTANA TERRITORY ARCHIVE OF THIRTY-FIVE INVOICES MADE OUT TO THE MONTANA MERCHANT AND FARMER, J.E. Dougherty, documenting his purchases of inventory for his store and materials for his farm over a ten-year period. Dated 1880-1889 – Billings and Helena. The invoices and receipts are partially printed and completed in manuscript.
J.E. Dougherty (1841-1905) was born in Perth, Ontario, Canada and moved to Montana Territory in 1870. He taught school for a year before opening a general store in Radersburg, located in an area which at the time was prospering from a boom in mining activity. Dougherty sold merchandise and farm equipment to miners and farmers until closing his business in 1886. He also owned a farm in Crow Creek Valley. The majority of the invoices in this collection are from the period 1881-1883, and are for purchases made by Dougherty to stock his store. Others are apparently for use on his farm. The Montana Historical Society has a collection of manuscript records of Dougherty's store, consisting of two ledgers and thirteen daybooks, covering the period 1870 to 1887. (The Montana Historical Society)
A small but informative archive, documenting ten years of purchases by Montana merchant and farmer, J.E. Dougherty. The invoices span the final ten years of Montana Territory, the latest one being dated 1889, a few months before Montana became a state. Taken as a whole, they tell a story of the goods offered by a variety of Helena and Billings merchants, and the business activities of Dougherty, an active merchant with a general store in the small town of Radersburg, Montana, some fifty miles southeast of Helena. All but one of the invoices are from businesses in Helena, the sole exception being an invoice from H. Clark & Co., wholesale merchants of Billings, Montana. Thirteen of the invoices are from Greenhood, Bohm & Company, and document Dougherty's purchases in the period 1881-1883 of goods such as clothing, luggage, hats, bar glasses, capes, linens, gloves, towels, and more. Another six invoices are from H.M. Parchen & Company, dealers in drugs, chemicals, paints, oils, and wallpaper, and record purchases of liquor, medicine, oil, and food. Five invoices apiece are from the firms of Clarke, Conrad & Curtin, and also Kleinschmidt Brothers, wholesale and retail grocers, and four more are from Gans & Klein, dealers in clothing and furnishing goods.
Of the invoices included the company N. Millen were sellers of boots and shoes, leather and bindings. Evidently , according to an ad in the April 1, 1874 THE DAILY INDEPENDENT, Helena they were initially N. Millen and Rosencrans.
H.M. Parchen and Co. DEALERS IIN DRUGS, CHEMICALS, PAINTS, OILS, WALL-PAPER, Stationary, Building-paper, Lamps, Glass, Quicksilver, Notions, Etc. Henry M. Parchen was born in Prussia on June 13, 1839, and immigrated with his family in 1848 to the United States. In 1862 he moved to Colorado, where he was a bookkeeper for a hotel in Denver, and then managed a hotel in Central City. Parchen traveled to Virginia City, Montana, in 1864. After working there briefly as a bookkeeper for Erfurt, Busch and Company, he opened a drug store in Helena with partners Dr. Wernigk and Louis Keysser. Parchen's drug business gradually expanded, operating under the name Parchen and Painter, and then as H. M. Parchen and Company. He opened branch stores in several other towns. In 1893 the business was formally incorporated as the Parchen Drug Company. Parchen served in the territorial legislature in 1881 and was elected three times as a Lewis and Clark County commissioner. (Montana Historical Society)
Kleinschmidt & Bro. were wholesale and retail grocers, and produce dealers.
Greenhood, Bohm and Co, Dealers in Clothing and Gents' Furnishing Goods. Born in Regensburg, Bavaria in 1842, Isaac Greenhood immigrated to the United States and eventually to Helena, Montana Territory in 1866. The company Greenhood, Bohm and Co. was established was established in 1877. The company under the leadership of Greenhood was run in Helena and Ferdinand Bohm, his New York partner ran the New York store. In 1892, Greenhood, Bohm and Co. declared bankruptcy. (Montana Historical Society).
Klleinschmidt Bros. & Co. placed an ad in The Helena Independent on July 1, 1884 stating that they were "THE LARGEST MERCANTILE HOUSE IN MONTANA." Dealers in Groceries, Hardware, Clothing, and Mens' Furnishing Goods, Trunks and Valises, Boots and Shoes, Liquors, Tobaccos and Cigars. Good accounts solicited to which prompt attention will be paid and satisfaction guaranteed. All correspondence as to Inquiries, regarding prices will find prompt attention."
Gans & Klein – Manufacturers of CLOTHING & FURNISHING GOOD AND DEALERS IN BOOTS AND SHOES, Hats, Hydraulic Duck Hose, Rubber Goods & C. Born in Neustadt, Germany Joseph Gans migrated to New York in 1861. In 1866 he moved to Helena, operated a general merchandise store, ranched using the brand "XIT" and raised sheep in Wyoming. In 1882 he formed a partnership with Louis and Herman Gans. (Jewish Museum of the West)
Clarke, Conrad & Curtin was a Helena firm that specialized in Cooking, Heating and parlor Stoves. Initially opening a store in Virginia City in 1864 the moved the operation in 1865 to Helena.