Morphine Overdoses of Two Prostitutes in Anaconda, Montana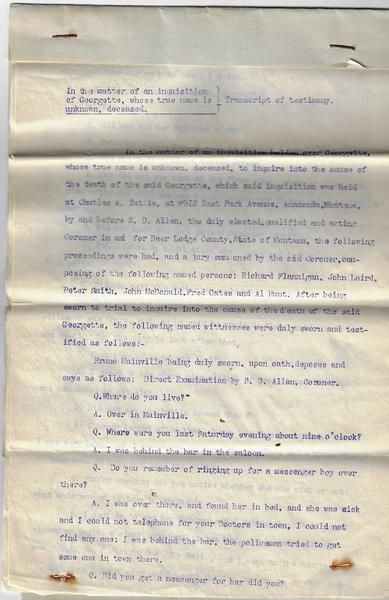 Anaconda, Deer Lodge County, Montana, June–August 1907. Two typed documents, 4to, 27 pp., purple stamps on verso of last page, with 2 corresponding printed forms, 2 pp., completed in manuscript.
A pair of inquests regarding the deaths due to morphine overdoses of two prostitutes in the same brothel in Anaconda, Montana in 1907 (only two months apart), shedding light on the sad lives of sex-workers in a western mining region. Also included are the partially printed State Of Montana, County of Deer Lodge Jurors report on what each of the inquest determined.
The first of two inquests concerns the death in Anaconda of eighteen year-old sex-worker Grace Baker, known in her profession as Eva Gordon. Originally from Mizpah, Minnesota, where, it is suggested, she had worked as a church organist and taught bible class, Baker was said to be very beautiful and had lived in Anaconda about a year at the time of her death in 1907. As documented here, Baker took morphine with a fellow prostitute, Eva Sponsler (also known here as 'Ella Black'), who survived and testifies that Baker had taken morphine on a number of occasions. According to the testimonies of both Mamie Morris (possibly the madam) and Percy Ingalls (a police officer), Baker had attempted suicide several times before her death, and, according to Sponsler, the incident was not provoked by any "man-lover." Ingalls notes that the women in the house often confided in on-duty Anaconda policemen and relates that Baker "used to get letters from home [in Minnesota] that made her feel blue, and she used to worry and get dull about them." The letters evidently alluded to her former life "and when [Baker] read these things they used to make her sad and she said she could not stand it much longer."
The second inquest concerns the suicide of a prostitute name "Georgette" whose legal name was unknown at the time of her death. Excerpts from this inquest include:
Q. "You was in there then?"
A. Some one rang the bell, and I went in there and she called for drinks, and paid for them, and then I went back, and sold drinks again, and she said to me there was two parties there; there was a man by the name of Baiila, and Zule, and she pulled out this watch and says I will give you this watch for a present, and ring and ring I give you a present, and I thought it was only a bluff at the time, and I did not know she had taken poison and I did not believe it, and I got back again to the house, and she took the poison there when she sent for this poison, there is a young "kid", his name is Campbell, a messenger boy, and I think he will be here. She rung the bell, and I went in there, and I searched what ever they wanted; she gave me a dollar and I gave her the change : I was just coming out, and she asked for water, and she went into the hall, and she was in the front room, talking to the messenger boy, and the messenger boy told me he got morphine for her; finally I went to work, I knew the woman pretty well; I left this Zuie woman take care of her, and then Zuie was there, and I told her to take care of her, and I would pay her out of my own pocket, and I came out and went down to telephone for a doctor, and I could not get them, and I met Percy Ingalls, and told him about her, and he went for the Doctor: Saturday night I telephoned to Dr. St. Jean, he was out, and I telephoned to his private residence, and could not find him; his wife told me he was out of town. Next afternoon I went to bed, and when I got off shift, and she was much worse when I went to see her; she was pretty bad, and then I could not find a doctor; Bruno Mainville got on his bicycle, and told me he was going to get the Doctor, and asked me to take his place and he got one of the Doctors and he worked on her, and while he was working on her, she died."
Q. "Doctor, was you called out yesterday at any time?"
A. "….and I saw on the bed a lady, under the influence of morphine…. The woman was so completely exhausted….blue, pupils contracted, respiration was verbal, seven or either a minute, completely unconscious. We applied the different antidotes for morphine, and I worked with her two hours, she died. That is all I know of the case. She had all the symptoms of morphine poisoning: there was a small morphine bottle, that looks like it, one 18 ounce of drachm it was laid on the bureau, ….this enough to kill a person; it is enough to kill a horse."
CONDITION: One document good overall, old folds, breaks along two folds in last leaf, with loss to a portion of one sentence and retaining several small minor tape repairs, damp stain in upper left corner of last leaf. The second inquest with old folds and in vg cond.