Nabob Consolidated Mining Company - Idaho - 1920's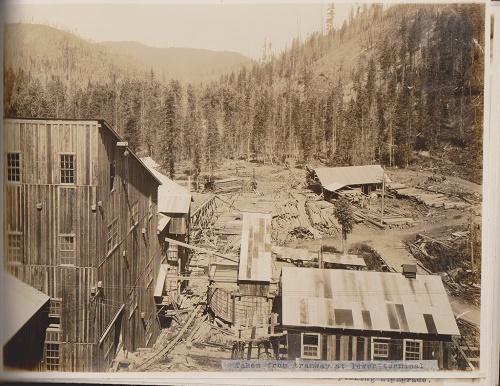 Scarce original reports on the property and mining activities of the Nabob Consolidated Mining Company whose claims lay in the Pine Creek section of the Coeur d'Alene mining district of northern Idaho. The reports are: A) 5 page typewritten REPORT ON THE NABOB CONSOLIDATED MINING COMPANY GROUP OF CLAIMS signed in print by Wm. A. Beaudry who was the general manager of the Stewart Mining Co which was the mother company that took over the operations of the Nabob Mining Company on July 21, 1916. B) A six page typewritten report signed in print by B.N. Sharp, M.E. titled REPORT ON THE PROPERTY OF THE NABOB CONSOLIDATED MINING COMPANY and C) 5 pages of Nabob Ore Settlement Sheets titled AMERICAN SMELTING AND REFINING CO., East Helena, Montana. Also included are two blueprint leaves titled ASSAY REPORTS FOR THE DENVER MINE OF THE NABOB CONSOLIDATED MINING CO. – Aug. 18, '20 and PLAN OF WORKINGS OF THE DENVER MINE – NABOB CONSOLIDATED MINING CO. Aug. 18, '20. Detailed within the reports are information concerning the mines geology, the mill, tunnels, etc. and its prospects. The remainder of the photo album is 13 original photographs ( 9 ¾ x 7 1/2" inches) mounted with linen backing, and typed captions affixed to lower edge of ten images.
The Nabob Consolidated Mining Company was a subsidiary of Stewart Mining Company with offices in New York City and Kellogg, Idaho. Incorporated in 1917 with a capital of $3,5000,000 shares $1.00 par with 2,600,000 issued and 1,750,000 shares being held by the Stewart Mining Co. They had 28 claims on Pine Creek near Kellogg, Shoshone County with the principal claims being at Nabob, Denver and Mascot. The reserves in 1918 were estimated as 22,000 tons possible and 46,000 tons probable ore, but augmented by later work. A rich shoot of ore in the lower Nabob tunnel yielded several cars of ore in 1918 with the mill ore carrying 10% lead, 15% zinc and 7 oz silver per ton.
According to Wm. A. Beaudry's report (included) "The property is well equipped with compressors, receiver, machine drills, hoists, mine cars, track, blacksmith shop, machine shop, together with boarding house and bunk-houses. All machine equipment is in place and electrically connected and motors intact; also gravity tramway from mine to mill." "The mill is well built, on a good foundation, and of about 200-ton daily capacity, and the milling that has been done shows very good results in the savings as well as in the grade of concentrate obtained." "On the Nabob claim some ore has been developed in small quantity, but of a good grade of lead, free of zinc, making it an ore easily milled. This ore occurs in shoot and varying from a few inches to 2 ft. in width, and from 10 to 50 ft. long, with hard walls on both sides, making it easy to mine clean without the use of much timber." "The cost for mining and milling should not exceed $4 per ton, and hauling is about $4 per ton on concentrates, making 80 cents per ton on ore mined. This should leave a net profit of about $2.50 per ton, or $15,000 per month, if the mill is kept going full capacity."
In B.N. Sharp, M.E. report (included) he concludes "...I beg to say that the Nabob company have, in my opinion, an excellent property, with enough ore, in all probability, to run the mill two years. The mine is now quite well equipped, and I do not anticipate any trouble in breaking 150 tons of ore per day in the mine."
Photos have great contrast. Vg cond.