Oklahoma Indian Lands For Sale - 1919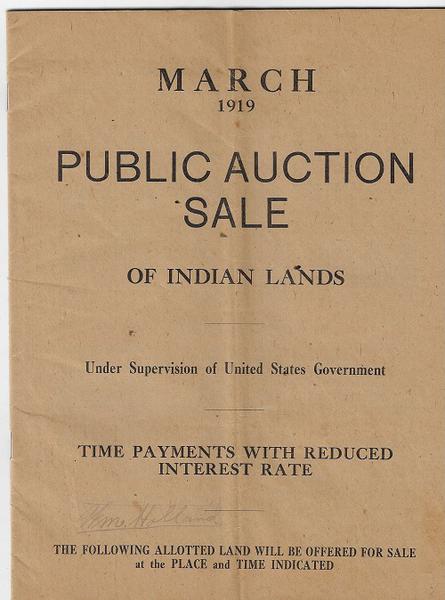 "THE RIGHT IS RESERVED TO REJECT ANY AND ALL BIDS"
(Oklahoma Indian Lands) MARCH 1919. PUBLIC AUCTION SALE OF INDIAN LANDS. Under Supervision of United States Government. TIME PAYMENTS WITH REDUCED INTEREST RATE. THE FOLLOWING ALLOTTED LAND WILL BE OFFERED FOR SALE AT THE PLACE AND TIME INDICATED. Muskogee,
Oklahoma. January 23, 1919. 29 pg.
Rare documentation and promotion for auctions of Indians lands in Oklahoma in March 1919, several years after the winding up of the Dawes Commission,
which oversaw enrollment into the "Five Civilized" and other Oklahoma tribes and allotment of land to individuals admitted to the final rolls thereafter as a part of the 1898 Curtis Act. "These lands are offered and will be sold subject to any existing valid leases on the premises. Bidders should satisfy themselves as to existence of leases."
Initially, the government reserved millions of acres containing valuable timber and coal deposits, land which was sold at auction in 1914 soon after the conclusion of the allotment process. The sales advertised in the present catalogue are for parcels of lands actually allotted to Native Americans who made it onto the official rolls of their tribes. In many cases after the allotment, individuals found that they could not use or could not afford to keep their land, and chose to sell. The several hundred lots offered are from the counties of Craig and Ottawa, Nowata, Rogers, Washington, Tulsa, Creek, Okmulgee, Delaware, Mayes, Cherokee, Wagoner, Muskogee, McIntosh, Haskell, Pittsburg, Latimer, Atoka, Coal, Pontotoc, Hughes, Okfuskee, Seminole,
Stephens, Grady, Jefferson, McClain, Garvin, Murray, Marshall, Johnston, Bryan, Love, Choctaw, Pushmataha, McCurtain, Leflore, Adai and Sequoyah. Each listing provide the name, tribe, and roll number of the seller, followed by a brief description of the size, scope, and current or potential uses of the plots.
Represented amongst the sellers are members of the Seminole, Cherokee, Chickasaw, Choctaw, and Creek tribes. The sales proceeded by county at various U.S. Indian Service office locations across the state from March 6 to March 15, 1919. OCLC locates only one copy, at Yale. Printed wraps, stapled, transmittal envelope, overall in vg cond.