Richardson, George W. ...The Report of the Committee On Federal Relations In The Convention of Virginia - 1861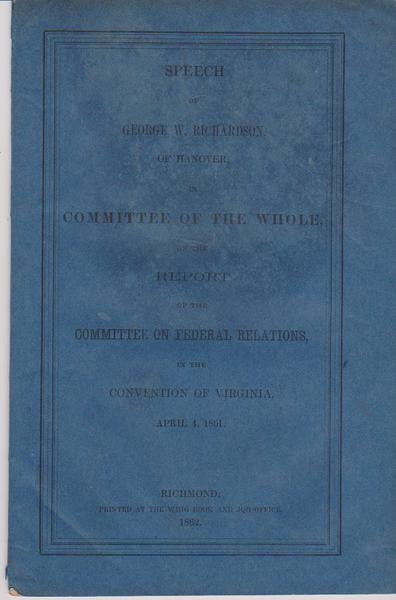 Richardson, George W. SPEECH OF GEORGE W. RICHARDSON OF HANOVER IN COMMITTEE OF THE WHOLE ON THE REPORT OF THE COMMITTEE ON FEDERAL RELATIONS IN THE CONVENTION OF VIRGINIA. APRIL 4, 1861. Printed At The Whig Book and Job Office, Richmond. 1st. 1862. 32 pgs., printed wraps, very minor foxing, overall in vg cond.
Other than Crandall, who suggests with some justification that the 1862 publication date is an error, the bibliographers treat this as a Confederate Imprint. Richardson argues "not only that our destiny is with the Southern Confederacy, but that the best mode of re-constructing the Union is promptly to identify ourselves with the seceded states. "Although the North and England foisted slavery upon the South, the freemen our Southern States, guiltless in the means, but partakers of the merit of the end, have, by the dispensation of God, been made the honored instruments of good to a fallen race, which had come down through the shadows of ages the curse of ....God." Southerners have "made the African a happy part of a patriarchal institution, unsealing for him the word of god." As for Lincoln, he "seems as good a splitting the Union as he formerly was a splitting rails, and is as much out of place in his present position as a child or a monkey passing with a lighted match in the midst of open kegs of gunpowder."
P&W 5778. Haynes 15129, Crandall 2831, ( Probably printed before the secession of Virginia.