Santa Fe - Harveycars - The Taos Cruise Photo Album - c. 1930's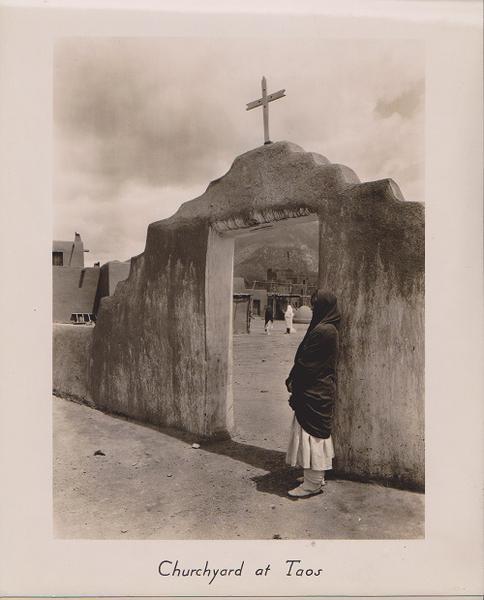 SANTA FE – HARVEYCARS – THE TAOS CRUSE PHOTO ALBUM – C. 1930'S
Scarce and important photo album of 30 silver gelatin print photographs published by the Fred Harvey Co. for the purpose of encouraging tourism throughout the 19 Pueblos of the southwest surrounding the cities of Santa Fe and Taos. The photos, many signed on the verso by Edward Kemp (1868-1964), who along with his wife Josephine (1899-1935), were best known for their still photographs and motion pictures for travelogues including Sunset Magazine which was published by Southern Pacific from 1898-1912. By the middle of the late 1920's Ford Harvey, son of Fred Harvey had hired Edward Kemp to photograph many of the Harvey Tours destinations. Thus this album titled The Taos Cruise.
It has been stated that "No one individual did more to civilize the American West than Frederick Henry Harvey." In 1876 Frederick Harvey struck a deal with the Atchison, Topeka and Santa Fe railroad to open the first "Harvey House" in Topeka, Kansas. By 1878 the Atchison, Topeka and Santa Fe had reached to Albuquerque.
When Fred Harvey died in 1901, he left behind a solid and profitable business which included 45 restaurants in 12 states and 20 dining cars. His sons, Ford and Byron Harvey, along with John Frederick Huckel, Herman Schweizer and David Benjamin, continued to build the business. In 1902 the Harvey Company created its "Indian Department" which consisted of photographers commissioned artists and ethnographers "to depict the Southwest's unique 'Indian' lifestyle and culture. The period from 1895-1940 witnessed the boom of Southwestern tourism. The Santa Fe railroad and the Harvey Company took full advantage of the national interest in the region and in 1925 created the famous "Indian Detours" of from 1-3 days to drive through the "wilderness panoramas" of Northern New Mexico to Indian ruin sites and living pueblos. The tours officially began in May of 1926 with a one day tour being $14.00, 2 days $30.00 and three days $40.00. Rates did not include meals but all else was included. But, by the end of the 1930's the "Indian Tours" had fallen on hard times and in 1968 the business was sold to the hospitality company Amfac, Inc. based in Hawaii. (Ref: Santa Fe Selection Travel Guide and Concierge; The Harvey House Cookbook; Northern Arizona University)
THE TAOS CRUISE photo album is a fascinating promotional album including photos titled "Bit of Tesuque Indian Pueblo", "Eagle Dance – Tesuque Indian pueblo – Santa Fe", Estufa at San Ildefonso Indian Pueblo", "Rest House at Puye", "Prehistoric Kiva at Puye", "Penitente Morada near Chimayo", "Old Church at Cordova", "In San Juan Indian Pueblo", "Rio Grande Canyon near Taos", "Old Church at Ranchos de Taos", "Taos Indian Pueblo" and "Churchyard at Taos".
Photographs are all 25 x 20 cm, mounted on linen leaves and retained in a full black leather which is gilt stamped Santa Fe – Harveycars – THE TAOS CRUISE. This is an excellent record of the Harvey Companies operational and promotional advertising. Apparently unrecorded. No copies in OCLC. Vg cond.