Simeon Buford - Buford Mercantile Company - Virginia City, Montana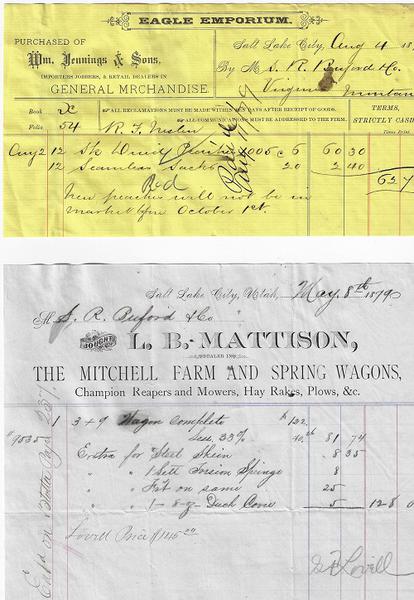 SIMEON BUFORD'S BUFORD MERCANTILE COMPANY – VIRGINIA CITY, MONTANA
An extremely important archive of incoming invoices from northern Utah wholesale suppliers to Simeon Buford's Buford Mercantile Company in Virginia City, Montana. The earliest items are six separate ALS to Henry Elling. The archive contains 66 records, mostly on letterhead, from the Buford Mercantile Company of Virginia City between 1874-1909. They give a thorough historical business view of how Virginia City survived through the import of all types of food and daily supplies which the populace needed.
Backed by banker Henry Elling, in 1878, Simeon R. Buford, a freighter and bookkeeper, went into business for himself, opening the Buford Mercantile Company. The store would become one of the most successful in Virginia City history, operating well into the 1920s. Buford's was the supply point for most of southwestern Montana, including the infant "Butte City." In later years, Butte's huge warehouses would, in turn, supply Buford's own business.
Items purchased included duck cover, torsion springs, steel skein, seamless socks, peeled peaches, dried plums, plows, apples, cherries, knives, cylinder teeth, Gale chilled plows with wheel and extra point and wrench all complete; bale wire, set heavy wheel harness complete Sacramento make winchester collar; light double buggy harness, mirror, oil paintings, Buckeye Mower, mower knives, case of lemons, grain drill, seeder, heavy key, grass seed attachment for buckeye drill, ledger plates, ground rivits, No. 2 rake teeth, alfalfa seed, sacks, pears, brandy, Bradley rake teeth, comb honey, creamery butter, etc.
Wholesalers whom the Buford Mercantile Company purchased from were A. Kuhn and Brother from Corinne, UT; Bank of Corinne; Banking House of White and McCormick, Salk Lake City; L.B. Mattison – The Mitchell Farm and Spring Wagons, Salk Lake City; Wm Jennings and Sons – General Merchandise, Salt Lake City; Geo. A. Lowe – P. Schuttler's Chicago Wagons, Salt Lake City; Day and Co. - Dealers in General Merchandise, Salt Lake City; Baines and Davis – Dealers in General Merchandise, Salt Lake City; Boyle and Co. - Wholesale and Retail Furniture, Ogden, Utah; D.M. Osborne and Co. - Salt Lake City; H.M. Bond and Co., Groceries – Produce and Fruits, Ogden City; Co-operative Wagon and Machine Co., Salt Lake City; The H.L. Griffin Co., Grain Seeds and Produce, Ogden; Superior Honey Company, Ogden; etc.

"The Buford Mercantile Company was founded in 1878 by Simeon R. Buford, who ran the store continuously until his death in 1905. The store was then operated by Simeon's younger brother, Charles H. Buford, finally closing in the 1920s. S. R. Buford was a meticulous record keeper, and saved everything from ledgers and receipts to tin can labels and letters. A wealth of information regarding how he ran his business is thus available for research (to which this archive would be most valuable). A keen businessman, one ledger for Buford's store dated December 10, 1883 – January 28, 1884, shows that Buford was open every single day in that time period—including Christmas and New Years—and also made sales every single day without exception." (Source: Laura Joanne Arata; Historic Montana)