Spalding's Baseball Guide - 1895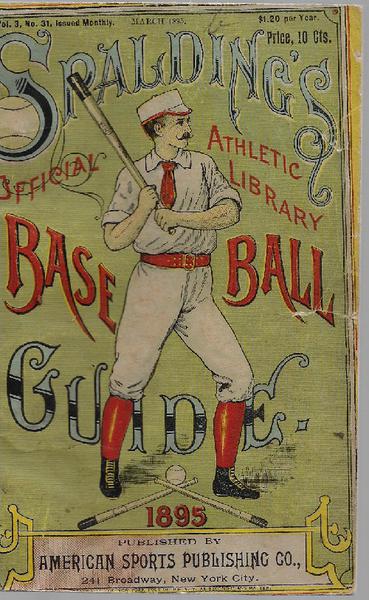 ONE – TWO – THREE STRIKES AND YOUR OUT!!!
Spalding, A.G. SPALDING'S OFFICIAL ATHLETIC LIBRARY BASE BALL GUIDE. 1894. (title page) SPALDING'S BASE BALL GUIDE AND OFFICIAL LEAGUE BOOK FOR 1894. A COMPLETE HAND BOOK OF THE NATIONAL GAME OF BASE BALL, CONTAINING THE FULL OFFICIAL LEAGUE RECORD FOR 1893. TOGETHER WITH THE NEW ODE OF PLAYING RULES AS REVISED BY THE COMMITTEE OF RULES. ATTACHED TO WHICH ARE EXPLANATORY NOTES, GIVING A CORRECT INTERPRETATION OF THE NEW RULES. A PROMINENT FEATURE OF THE GUIDE FOR 1894 IS THE COMPLETE PITCHING RECORDS OF 1893, TO WHICH ARE ADDED SPECIAL CHAPTERS ON THE BATTING, FIELDING AND BASE RUNNING OF 1893. TOGETHER WITH INTERESTING RECORDS OF THE MOST NOTEWORTHY CONTESTS, INCIDENTS AND OCCURRENCES OF THE EVENTFUL SEASON OF 1893, OCCURRING IN THE COLLEGE ARENA AS WELL AS THAT OF THE PROFESSIONAL CLUBS. Edited by Henry Chadwick. Pict. Wraps, frontis of A.G. Spalding. 165 pgs plus 27 pgs. of advertising. Numerous illustrations, baseball statistics, tables, etc. Minor spine chip, overall in vg cond.