Tesuque Indian Pueblo Photo by C.G. Kaadt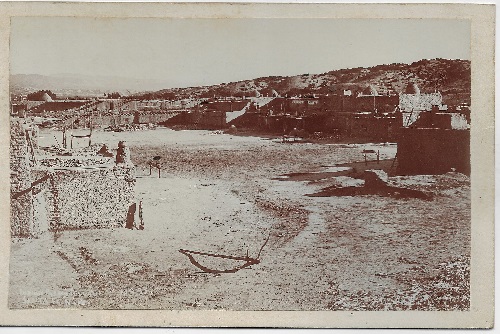 Photo taken by photographer C.G. Kaadt of the Tesuque Indian Pueblo with an inscribed date of December 30, 1899 on verso. Cabinet card photo 4.5 x 7 inches mounted on 8 x 5 inch card. The verso carries information FOR THE HEALTH SEEKER concerning Santa Fe along with an ad for The Denver & Rio Grande R.R., Jacob Weltmer – Books, Stationery, Periodicals and for the photographer C.G. Kaadt.
Kaadt was born in Denmark and worked in Santa Fe between 1899-1905. Kaadt advertised that "I have Views of everything of interest in this vicinity; also Indian Villages, Indians, Squaws, etc."
Tesuque meaning "village of the narrow place of the cottonwood trees", has a population of about 900 people living on 17,000 acres in the foothills of the Sangre de Cristo Mountains. It has been at its present location since 1200 A.D.
Very fine condition.