The French Creek Mining and Development Co. LTD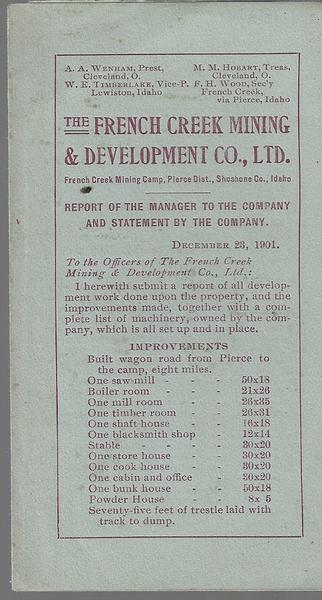 THE FRENCH CREEK MINING AND DEVELOPMENT CO., LTD. [Cleveland?]: 1902]. [6]pp. folding pamphlet. Light wear and dust soiling. Vg cond.
An unrecorded report and solicitation for investment from a central Idaho mining outfit at the beginning of the 20th century. The French Creek Mining & Development Company was attempting to develop claims on the Salmon River, approximately half way between Moscow and Boise; its headquarters within the state were at Pierce, over 100 miles north of the claims. This brief report details all improvements made to the claims and property, as well as development and expansion of the mines that took place in 1901. Having exhausted funds on those projects, the officers of the company also exhort shareholders to purchase more stock to protect their initial investments and allow development to continue. Not in OCLC.