The Great West Emigrants', Settlers' & Travellers' Guide and hand-Book.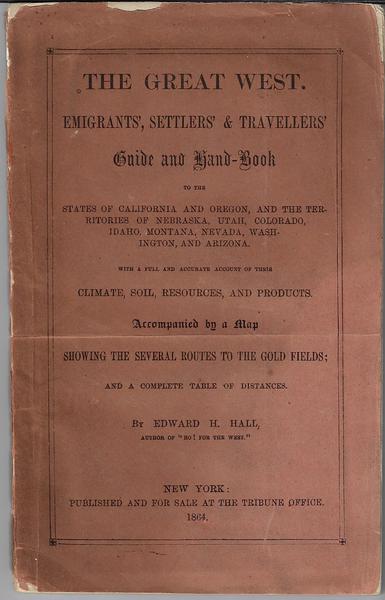 THE GREAT WEST. EMIGRANTS', SETTLERS' & TRAVELLERS' GUIDE AND HAND-BOOK
Hall, Edward H. THE GREAT WEST. EMIGRANTS', SETTLERS' & TRAVELLERS' GUIDE AND HAND-BOOK TO THE STATES OF CALIFORNIA AND OREGON, AND THE TERRITORIES OF NEBRASKA, UTAH, COLORADO, IDAHO, MONTANA, NEVADA, WASHINGTON AND ARIZONA. WITH A FULL AND ACCURATE ACCOUNT OF THEIR CLIMATE, SOIL, RESOURCES AND PRODUCTS ACCOMPANIED BY A MAP SHOWING THE SEVERAL ROUTES TO THE GOLD FIELDS; AND A COMPLETE TABLE OF DISTANCES. New York. Pub. At the Tribune Office, 1st 1864.
Quite a rare guide for emigrants, settlers and travellers with information concerning the newly discovered gold regions of Idaho and Montana. A very useful resource for those who were emigrating west with information on stock raising and farming and a significant amount of information on mineral resources and mining in each of the states and territories mentioned. Wagner-Camp "This work seems to be another scissors-and-paste compilation, including articles that originally appeared in the NEW YORK TRIBUNE. It may have been a growing text even while going to press, as the title page ends with Washington in the list of states and territories covered, but the wrapper title adds Arizona. "The guide discusses how to travel across country and how to outfit a team and wagon. Hall includes prices of goods and furnishes a table of distances. He describes the history, mines and rapidly growing towns of Nevada Territory" Paher. "History of the Territory of Utah, Mormonism deliberately played down to make the area seem desirable" - Flake. The map depicts the transcontinental routes by railroad as far west as St. Joseph, Missouri and continuing across the West to the Pacific Ocean.
Howes H55, "aa". Wagner-Camp 400. Streeter Sale 3073. Eberstadt 103:115. Jones 1472. Sabin 29761. Lathrop Harper 149:102. Cowan II, p. 258. Graff 1724. Smith 1568. Rader 1735. Decker 36:178. Braislin 884. Buck 655. Holliday 470. Paher, Nevada 761. Munk (Alliot) p. 94. Flake 3793. Adams Herd 973 (Rare).
Expected wear with minor chips on the front and rear wrap plus the spine, light tide-line on all pages in lower right corner of text-block. Overall a vg copy of a rare book.